IOWA CITY, Iowa— The University of Iowa track and field team finished Day 2 of the Larry Wieczorek Invitational on Saturday with four more event titles and 19 career-best performances at the UI Rec Building.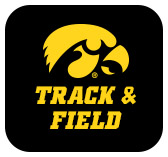 The Hawkeye men ran away with the team title with 189 points besting second place Nebraska by 72 points. The Iowa women placed third with 104 points.
Iowa's Wayne Lawrence Jr and Mallory King were both named Track Athlete of the Meet.
Lawrence Jr. kicked off his weekend winning the 200 meters in 21.14 on Friday evening.  On Saturday, he won the 400 meters for the second time in as many weeks with a time of 46.28. The time is a new season best and currently ranks third in the nation. Lawrence went on to anchor the 4×400 meter relay to a victory in 3:09.56.
"I was really pumped up on the men's side," said Iowa director of track and field Joey Woody, "seeing what Wayne did last night and then coming back today to run 46.2, No. 3 in the nation… that was a big time performance."
Mallory King pulled away from the pack early in the 800 meters and won the event in 2:06.01, a new season best. King ran the third leg on the 4×400 meter relay that placed second with a time of 3:42.46, a new season best for the Hawkeyes.
"Mallory King was track athlete of the meet," Woody said. "She came out and dominated the 800 in her first 800 of the year. That is a really impressive performance to go out that hard and fast and put that race together, and she competed well on the 4×4."
Iowa picked up wins with Nick Trattner in the men's mile (4:12.57) and closed the meet with a season best performance in the men's 4×400 meter relay (3:09.56).
Iowa also saw some movement in the all-time top 10 list. Paige Magee finished second in the 60-meter hurdles in 8.41 moving from 10 to seven on the all-time list, and Jamal Britt jumped two spots in the 60 meter hurdles climbing to a tie for No. 3 all-time. Britt is now tied with Jordan Mullen in 7.70.
"Jamal Britt coming back after the prelim and running 7.70 in the final, that was really nice to see. He's ranked No. 2 in the nation. Those are big time performances and it got their confidence going," Woody said.
"Paige Magee, who is a freshman, ran 8.41 and she is looking really good and starting to put some things together."
In the women's mile Kelli Tosic led a group of eight women who set personal bests. She placed second in 4:58.77, breaking the five-minute mark for the first time in her career.
QUOTING COACH WOODY
"We're in a good spot. We have a lot of kids that have been hit and miss with Covid or nagging injuries, but we are going to get ready for what I call the championship segment of our season, which starts in February. We need to get some kids on the track that haven't been on the track yet. I am excited about where we're at but I think we have a lot more in the tank going into the Big Ten Championships."
 MALE TRACK ATHLETE OF THE MEET:
Wayne Lawrence, Jr. (IOWA)
FEMALE TRACK ATHLETE OF THE MEET:
Mallory King (IOWA)
EVENT WINNERS:
M-400 Meters: Wayne Lawrence Jr. (46.28)
W-800 Meters: Mallory King (2:06.01)
M-Mile: Nick Trattner (4:12.57)
M-4×400 Meter: Gillum, Britt, Olson, Lawrence Jr (3:09.56)
CAREER BESTS:
M-60 Meter Hurdles: Jamal Britt (7.70)
W-60 Meter Hurdles: Paige Magee (8.41)
W-Triple Jump: Kayla Hutchins (11.98m,39-3.75)
M-400 Meters: Evan Shuster (50.05)
W-Mile: Kelli Tosic (4:58.77)
W-Mile: Gabby Skopec (5:01.21)
W-Mile: Logan Akason (5:04.29)
W-Mile: Katie Moore (5:07.33)
W-Mile: Ashley Bryja (5:08.65)
W-Mile: Bryce Giddel (5:22.01)
W-Mile: Claire Edmonson (5:24.12)
W-Mile: Abby Ryan (5:24.39)
M-Mile: Kal Lewis (4:14.85)
M-Mile: Nick Trattner (4:12.57)
W-800 Meters: Claire Pitcher (2:12.74)
W-800 Meters: Alli Bookin-Nosbisch (2:12.90)
W-800 Meters: Amber Aesoph (2:17.86)
M-800 Meters: Tyler Olson (1:52.37)
M-800 Meters: Jason Hoffman (1:54.00)
M-3000 Meters: Jack Pendergast (8:48.85)
M-3000 Meters: Aidan King (8:33.39)
Women's Team Scores:
1) Minnesota 139.5
2) Wisconsin 106
3) Iowa 104
4) Nebraska 96
5) Illinois 47.5
Men's Team Scores:
1) Iowa 189
2) Nebraska 117
3) Illinois 88
4) Minnesota 66
5) Wisconsin 58