PRAIRIE VIEW, Texas – The University of Iowa track and field team recorded eight all-time top 10 performances during Day 2 of the Husker B1G Invite on Saturday.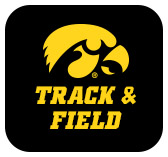 Will Daniels led the way for the Hawkeyes in the decathlon finishing second with a career best of 7,649 points. Daniels recorded two third-place finishes during the second day of competition. He finished third in the 110 hurdles with a career best of 14.38 and grabbed third in the pole vault with a career best 4.70 meters. Daniels point total puts him second all-time in program history, only 24 points off William Dougherty from 2018.
Austin West finished sixth with a career best point total of 7,458. West recorded career bests in the javelin and the 1500 meters during day two. West finished fourth in the javelin with a throw of 58.82 meters. West closed out the day with another fourth place finish the 1500 meters with a time of 4:46.96. West, in his decathlon debut, currently ranks third all-time in program history.
Peyton Haack finished seventh with a career best score of 7,300 points, a total that ranks fourth all-time in program history.
"Today was a Big day for the Heptathletes and Decathletes," Woody said. "Will lead the way with big PR performances in the High Hurdles and Pole Vault and finished the day off with a big final score and PR total to finish runner-up. Austin West had a huge PR in the javelin to set him up for a big PR score as well."
Jenny Kimbro returned to the heptathlon with a gold medal performance and 5,543 points. Kimbro opened the day in first place and finished the final three events with two runner-up marks and a third-place finish, including a career best in javelin with a mark of 35.53 meters. Dallyssa Huggins registered a fifth-place finish with 5,064 points, the No. 5 mark in school history.
"Jenny Kimbro led the way for the women in the Heptathlon," Woody said. "She had a huge PR in the Javelin and went for it in the 800 to win the event and set her up for a big score in her first Heptathlon in two years. I can't wait to see the progression of our entire multi group over the next foir weeks as they prepare for the Big 10 Championships."
James Carter Jr. continued his incredible outdoor campaign with a career best of 16.53 meters in the triple jump. This mark moves Carter from ninth all-time to second all-time in program history. Kayla Hutchins placed second and moved to fourth all-time in school history, landing her first attempt in triple jump at 12.75 meters.
"James Carter had an amazing day with huge jumps in the triple jump to beat a very impressive field. Even though the winds were big, 54'2" is a huge jump," Woody said. "I was also very impressed with Kayla Hutchins in the women's TJ with her big PR jump over 41'6"."
In the men's 110 hurdles, Jaylan McConico moved into sole possession of fourth place in program history, earning the silver medal in a career-best 13.61. Grant Conway placed eighth with a personal best 14.22. Former Hawkeye Aaron Mallett won the event in 13.54.
"I thought Jaylan competed very well today in the 110 hurdles to finish as the top collegian behind Iowa Alum Aaron Mallett. He's really starting to figure out his rhythm at the right time," Woody said.
Paige Magee placed runner-up in the 100 hurdles, running 13.57 in the finals and recording the sixth best time in school history. Myreanna Bebe also set a personal-best, placing seventh in 13.80.
"I thought Paige Magee had a terrific race in the 100 hurdle finals to finish runner up," Woody said. "She barely got edged out at the line for her first meet of the season. I'm excited to see what can do over these next few weeks."
Laulauga Tausaga tossed 17.71 meters on her fifth attempt to place runner-up in shot put. Kat Moody jumped into the No. 4 spot on her final attempt, throwing 15.88 meters.
"Lagi came back after a disappointing discus yesterday to lead the way in the women's shot and throwing over 58' to finish runner-up. I also thought Kat Moody competed well in the SP with her 52' throw," Woody said.
Elijah Barnes finished fourth in the shot put with a mark of 17.80 meters. Dawson Ellingson and Jordan Johnson were next in seventh and eighth with marks of 16.94 meters and 16.59 meters respectively.
"It was good to see Elijah back in the 58' range in the SP to lead the men today," Woody said.
In the 400 meters, Cortney Strohman led the way finishing eighth with a time of 55.26. Tesa Roberts was close behind finishing ninth with a time of 55.28. DeJuan Frye was first for the men with a time of 48.02. Khullen Jefferson and Nolan Kembel finished ninth and 12th with times of 48.14 and 48.32 respectively.
"I was very happy to see DeJuan Frye have a great season's best performance in the 400 and then come back to anchor our men's 4×4 team to the win," Woody said.
Mallory King brought home the gold medal in the women's 800 meters with a time of 2:08.71. Tysen Vandraska placed runner-up in the men's 800 meters with a time of 1:50.11. Tyler Olson recorded a career best of 1:51.33 to finish fifth.
"I thought Tysen competed very well by fighting all the way to the finish line in the men's 800 to finish runner-up and continue to prove he's one of the best Mid-distance athletes in the conference," Woody said.
The Hawkeyes closed out the meet taking home gold in the men's and women's 4×400 relay. The women with a time of 3:40.71. The men's team recorded a work inning time of 3:10.42.
"It was great to finish the meet winning both the men's and women's 4×4 relays," Woody said.
"The conditions on the track were very tough with high winds all day, but I thought our team competed very well in all the events."
UP NEXT
Iowa travels to Champaign, Illinois, for the B1G Preview on April 23-24.
HAWKEYE RESULTS | DAY 2
Men's Shot Put University Open:
4. Elijah Barnes / 17.80m (PR)
7. Dawson Ellingson / 16.94m
8. Jordan Johnson / 16.59m
Women's Shot Put University Open:
2. Laulauga Tausaga / 17.71m
4. Kat Moody / 15.88m
7. Nia Britt / 15.48m
13. Ianna Roach / 13.87m
15. Jamie Kofron / 13.40m
Women's High Jump University Open:
11. Maria Gorham / 1.61m
Men's High Jump University Open:
7. Zach Pluff / 1.99m
Women's Triple Jump University Open:
2. Kayla Hutchins / 12.75m (PR), fourth all-time
Men's Triple Jump University Open:
1. Carter, James / 16.53m (PR) second all-time
Women's 4 x 100m Relay University Open:
8. IOWA "A" (Christian, Hargrove, Tobias, Roberts) / 46.70
10. IOWA "B" (Petersen, Saunders, Strohman, Weum) / 47.37
Men's 4 x 100m Relay University Open:
3. IOWA "A" (McConico, Woodard, Reed, Kembel) / 40.25
Women's Javelin University Open:
9. Marissa Mueller / 38.08m
Women's 100m Hurdles University Open:
2. Paige Magee / 13.57 (PR), sixth all-time
7. Myreanna Bebe / 13.80 (PR)
Men's 110m Hurdles University Open:
2. Jaylan McConico / 13.61 (PR), fourth all-time
8. Grant Conway / 14.22 (PR)
Women's 400m Dash University Open:
8. Cortney Strohman / 55.26
9. Tesa Roberts / 55.28
14. Aly Weum / 56.46
16. Tia Saunders / 56.55
Men's 400m Dash University Open:
8. DeJuan Frye / 48.02
9. Khullen Jefferson / 48.14
12. Nolan Kembel / 48.32
21. Raymund Clarke / 49.19
Women's 800m Run University Open:
1. Mallory King / 2:08.71
7. Clare Pitcher / 2:11.10
13. Logan Akason / 2:15.08
14. Katie Moore / 2:15.93
16. Lindsay Welker / 2:19.83
Men's 800m Run University Open:
2. Tysen VanDraska / 1:50.11
5. Tyler Olson / 1:51.33 (PR)
6. Alec Still / 1:51.53
11. Spencer Gudgel / 1:52.82
12. Jason Hoffman / 1:53.15
14. Armando Bryson / 1:58.10
Women's 200m Dash University Open:
12. Antonise Christian / 24.70
13. Tionna Tobias / 24.71
16. Lasarah Hargrove 25.00
21. Paige Magee / 25.23
35. Mariel Bruxvoort / 25.80
38. Karina Joyner / 25.88 (PR)
42. Katie Petersen / 26.13
Men's 200m Dash University Open:
5. Antonio Woodard / 21.22
6. Jaylan McConico / 21.33
12. Gratt Reed / 21.50
14. Jamal Britt / 21.58
32. Drake Woody / 22.35
36. Grant Conway / 22. 56
41. Josh Braverman / 22.95
Women's 4 x 400m Relay University Open:
1. IOWA A (King,Strohman,Saunders, Roberts) 3:40.71
7. IOWA B (Moore,Bruxvoort,Pitcher,Weum) 3:50.06
Men's 4 x 400m Relay University Open:
1. IOWA A (Mckiver,Woodard,Lietz,Frye) 3:10.42
3. IOWA C (Still,Britt,Clarke,Jefferson) 3:12.76
9. IOWA B (Olson,Gudgel,Woody,Kembel) 3:15.56
Women's Heptathlon Open:
1. Jenny Kimbro / 5,543 points
2. Long Jump / 5.72m
3. Javelin / 35.53m (PR)
2. 800 meters / 2:18.56
5. Dallyssa Huggins / 5,064 points, fifth all-time
10. Long Jump / 5.04m
4. Javelin / 35.29m
3. 800 meters 2:20.79
Men's Decathlon:
7. Peyton Haack / 7,300 points fourth all-time
7. 110H / 14.67 (PR)
8. Discus / 37.13m
5. Pole Vault / 4.60m
11. Javelin / 45.28m
10. 1500 M / 4:59.89
6. Austin West / 7,458 third all-time
9. 110H / 15.06
7. Discus / 38.25m
13. Pole Vault / 4.00m
4. Javelin / 58.82m (PR)
4. 1500 M / 4:46.96 (PR)
2. Will Daniels / 7,649 second all-time
3. 110H / 14.38 (PR)
4. Discus / 40.74m (PR)
3. Pole Vault / 4.70m (PR)
8. Javelin / 53.06m
11. 1500 M / 5:01.49