IOWA CITY, Iowa — Three of the top four hurdlers in University of Iowa history have been invited by USA Track & Field to compete in the 110-meter hurdles this week at the 2021 Drake Relays in Des Moines, Iowa.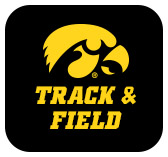 Aaron Mallett, Jamal Britt and Jaylan McConico will participate in one of the 12 'Journey to Gold' events as part of the Relays World Athletics Silver Level Continental Tour.
Mallett was a seven-time All-American for Iowa from 2014-17. He won three Big Ten titles in the 110-meter hurdles, setting the school record of 13.24 in 2017.
Britt's 13.52 personal best ranks third all-time in school history and McConico ranks fourth in 13.61.
Mallett won a Drake Relays title in 2017, joining Pat McGhee (1988) as the only Hawkeyes to win the University Division event title in front of a pro-Iowa crowd.
"I love the Drake Relays. When I won you would have thought I won a national championship," Mallett said. "It was like 39 degrees and raining, but I had a great time."
McConico raced the 110-hurdles at Drake in 2019, placing 11th in 14.19. Last weekend in Houston, he hit a new PR in the finals of the Husker B1G Invite, setting himself up for a better showing in 2021.
"I feel like I'm in a good place. Getting sharper. Getting more reps as the meets go on and getting ready for nationals," McConico said. "I want to go out and execute to the best of my ability and see what happens."
Britt is making his first appearance at Drake, and with a stacked field that includes past Olympians and runners from six different countries, he expects fast times and a championship effort.
"It's very exciting. We are getting a chance to run against pros that have been on the Olympic level or competed in World Championships, which is pretty exciting," Britt said. "This is my first time at the Drake Relays. I would like to hit the Olympic standard, but whatever happens, happens. Hopefully I'll go out there and compete to win. That is the main goal."
The first round of the 110 hurdles begins Friday at 3:44 p.m. (CT). The finals are Saturday at 3:26 p.m. Live results and a complete schedule are available at DrakeRelays.org.
"It is going to be a privilege to run with guys of that caliber," McConico said. "It will definitely help me going into NCAAs. It's a chance to get to that next level and set myself up for the rest of the season."
THE MALLETT FACTOR
Since graduating in 2017, Mallett has been training in Iowa City with the goal of making the United States National Team and advancing to World Championships and Olympic Games.
He is on that path entering 2021 after racing a career-best 13.15 in September 2020, the third fastest time in the world last year.
"I had a big breakthrough. I had not PR'd since I graduated college," Mallett said. "I hit 13.37 when I graduated and outside of being hurt and learning the pro world, I ended up PR'ing last year and hit 13.15. That was good enough for third in the world, so I was super excited about that."
Mallet practices every day as an extension of the Iowa hurdler squad, training under the direction of head coach Joey Woody and setting an example for Iowa's decorated hurdles group, a squad that ranks No. 1 in the country in the USTFCCCA event rankings.
Britt and McConico are both ranked in the nation's top 10 and hold two of the three fastest times in the Big Ten.
"Those guys are darn near pro level," Mallet said. "We train so hard. Our hurdles practices are like a track meet every day because not only do we have Jamal and Jaylan, who are top in the country and have a chance to make the Olympic Trials, but we have guys like Josh Braverman, Gratt Reed, Grant Conway. There are so many guys that can hit certain barriers.
"They push me every day. Part of the reason I have success is because I train with guys like that. I still have my veteran status and coach them up as we go through things, but those guys are far beyond where I was in college."
That competition, and the leadership in the program, is why Mallett decided to commit to Iowa eight years ago and is a big reason why he still believes his path to the Olympics goes through Iowa City.
"Coach Woody does everything. Not only is he a super technician and loves the sport of track and field, he loves his athletes," Mallett said. "He will take care of you once you're here and thereafter. There is something here that coach cultivates, and it is great for the program."
ABOUT THE 2021 DRAKE RELAYS
Drake Stadium will once again serve as a launching pad for the world's top track and field athletes as they begin their journey to the 2021 Summer Olympics at the 111th Drake Relays presented by Xtream powered by Mediacom April 22-24.
The 2021 Drake Relays is set to stage 12 'Journey to Gold' events as part of the Relays World Athletics Silver Level Continental Tour that will feature some of the world's best inside Drake Stadium. Those scheduled to compete in the 'Journey to Gold' events include national champions from 16 different countries, five Olympic gold medalists, 12 total medalists and 21 total Olympic finals appearances. The entire field will feature 10 World Champions and 32 total World Championship medals.
For the complete meet schedule and other information about the 2021 Drake Relays presented by Xtream powered by Mediacom, visit DrakeRelays.org.