By CHRIS BREWER
hawkeyesports.com
IOWA CITY, Iowa — Two years ago today the University of Iowa men's track and field team captured the 2019 Big Ten Outdoor Championship trophy.
It was the first conference title as a head coach for Iowa director of track and field Joey Woody. It wouldn't be his last and this weekend he's hoping to add the next.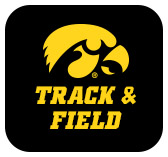 The Iowa men and women compete Friday through Sunday at the 2021 Big Ten Outdoor Championships in Champaign, Illinois. Action begins Friday at 11 a.m. (CT). A team champion for both the men and women will be determined Sunday following the respective 1,600-meter relays at 3:33 p.m. (men) and 3:45 p.m. (women).
The Hawkeye men are aiming to repeat as Big Ten outdoor champions. The 2019 meet in Iowa City was the last outdoor conference meet hosted by the Big Ten (2020 was canceled due to the COVID-19 pandemic). The Iowa women placed third in 2019.
When 2020 finally passed, the men and women mirrored those 2019 finishes at the 2021 Big Ten Indoor Championships in February. The men took home the title. The women placed third for the fourth time in five championships.
Those finishes equate to recent memories of success, and Woody says they serve as good reminders for what it takes to make it happen again.
"On paper we're looking good, both men and women. We just have to get to the start line healthy and feeling good and confident. I feel good about where we're at right now."

Director of Track & Field Joey Woody
"On paper we're looking good, both men and women," Woody said. "We just have to get to the start line healthy and feeling good and confident. I feel good about where we're at right now."
The Hawkeyes have competed exclusively against Big Ten competition since March. Iowa made trips to Florida and Texas in April with the intention of hitting hot marks under the sun, but the southern hospitality and weather proved unpredictable, and the Hawkeyes didn't really start clicking until a trip to Bloomington, Indiana, on May 1.
"It has been a weird year," Woody said. "We set up meets in Florida and Texas and the weather ended up being not very accommodating to what we were trying to do. Fortunately, we put things together at Indiana in our last meet as a full team and I felt good coming off of that meet. We have areas where we can improve quite a bit going into the weekend, but at the end of the day we have to show up and do what we're capable of doing and let the cards fall where they may."
The Hawkeye men, winners of the last two conference championships and the highest ranked Big Ten team in the USTFCCCA poll at No. 21, are again the favorites to win the Big Ten Championships. The women are contenders and ranked 30th in the national poll, one spot behind Indiana and 14 spots behind Ohio State, among Big Ten teams.
"I always feel like we have a chip on our shoulder," Woody said. "We are always out to prove that we are one of the best programs in the country. Being the Big Ten champion and being the best team in the Big Ten is a big part of that.
"For us, it is business as usual. We're going in like we're the underdogs. We feel good about where we're at but we still have to do what we're capable of doing. Nothing changes from that standpoint. If we just focus on ourselves we're going to have a good chance at competing to win the trophy."
It helps that Iowa welcomes back 17 senior men and women who chose to return from the COVID break with the intention of bringing more titles home to Iowa City.
"Bringing back so many great seniors, this is the deepest team we've ever had mainly because of that," Woody said. "But we only get to travel 34 athletes (per gender) and that makes my job a lot harder.
"We wouldn't be where we're at right now as a program if we didn't have the depth that pushes us to the top. If you have one slipup there is someone there to take your spot right away, so I think that's a positive. But we still have a family oriented program. Everybody roots for each other, but they're also trying to get on the travel roster and that's what you want. I feel good about the group we'll be taking."
The Big Ten Championships is streamed live at BTN Plus. Links to live streams and stats and a complete schedule of events can be found at hawkeyesports.com/tracklive.