IOWA CITY, Iowa – Thirty-six University of Iowa student-athletes have qualified for the 2021 NCAA Track and Field West Preliminary in College Station, Texas. The NCAA Division I Track and Field and Cross Country Committee announced the championship fields Thursday.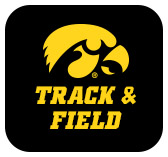 Iowa's 36 qualifiers includes 22 men and 14 women. The Hawkeyes will compete in 22 individual events and three relays.
The NCAA West Regional is hosted by Texas A&M from May 26-29 at E.B. Cushing Stadium. The top 12 individuals and relays from the West Regional move on to the 2021 NCAA Championship final rounds in Eugene, Oregon, June 9-12.
Senior Laulauga Tausaga leads the Iowa women. The four-time Big Ten discus champion is seeded No. 2 in the region in both discus (62.89 meters) and shot put (17.94 meters). Tausaga won the 2019 West Regional in discus with a then-school record (62.69 meters). Two weeks later she won the 2019 national title in Austin, Texas.
The men are led by Big Ten champions Jamal Britt and Jaylan McConico. McConico won the 110-meter hurdles at the Big Ten Championships and owns the top seed in the West in 13.23. Britt won the Big Ten title in the 400 hurdles (49.69) and is the No. 6 seed at the NCAA Regional. He is the No. 3 seed in the 110 hurdles in 13.45.
The NCAA West Regional will be live streamed at ESPN.com. A schedule of events and the complete performance list is available at hawkeyesports.com/tracklive.
QUALFIERS BY EVENT (SEED, ATHLETES, QUALIFYING MARK/TIME
Men's 200 Meters
20. Antonio Woodard, 20.67
45. Austin Kresley, 21.06
Women's 200 Meters
40. LaSarah Hargrove, 23.66
Men's 400 Meters
7. Wayne Lawrence Jr., 45.46
Women's 400 Meters
40. Cortney Strohman, 53.68
Men's 800 Meters
18. Tysen VanDraska, 1:48.21
21. Alex Still, 1:48.47
45. Tyler Olson, 1:49.96
Women's 800 Meters
12. Mallory King, 2:05.23
Men's 1,500 Meters
39. Kal Lewis, 3:43.42
Men's 10,000 Meters
24. Daniel Soto, 28:48.18
Men's 110 Hurdles
1. Jaylan McConico, 13.23
3. Jamal Britt, 13.45
28. Josh Braverman, 13.90
31. Grant Conway, 13.94
36. Gratt Reed, 13.98
Women's 100 Hurdles
18. Paige Magee, 13.17
30. Myreann Bebe, 13.37
34. Jenny Kimbro, 13.42
Men's 400 Hurdles
6. Jamal Britt, 49.69
20. Austin Lietz, 50.93
Women's 400 Hurdles
30. Mariel Bruxvoort, 59.11
Men's 3000 Steeplechase
5. Nathan Mylenek, 8:35.41
Men's High Jump
39. Zack Pluff, 2.10 meters
Women's High Jump
24. Dallyssa Huggins, 1.79 meters
Men's Long Jump
20. James Carter, 7.75 meters
41. Kaleba Jack, 7.52 meters
Men's Triple Jump
12. James Carter, 16.08 meters
Women's Triple Jump
Kayla Hutchins, 12.62 meters
Men's Shot Put
25. Elijah Barnes, 18.40 meters
48. Dawson Ellingson, 17.74 meters
Women's Shot Put
2. Laulauga Tausaga, 17.94 meters
27. Kat Moody, 16.30 meters
36. Nia Britt, 15.99 meters
Men's Discus
13. Jordan Johnson, 57.77 meters
38. Tyler Lienau, 55.04 meters
Women's Discus
2. Laulauga Tausaga, 62.09 meters
9. Serena Brown, 57.44 meters
43. Kat Moody, 51.13 meters
Women's Hammer
21. Amanda Howe, 62.65 meters
29. Allison Wahrman, 60.53 meters
34. Nia Britt, 59.87 meters
Men's 4 x 100 Relay
15. Iowa, 39.67
Men's 4 x 400 Relay
10. Iowa, 3:05.82
Women's 4 x 400 Relay
14. Iowa, 3:36.50