IOWA CITY, Iowa – University of Iowa director of track and field Joey Woody and Hawkeye senior Laulauga Tausaga have been named Midwest Region Men's Coach of the Year and Midwest Region Women's Field Athlete of the Year. The announcement was made Friday by the United States Track & Field and Cross Country Coaches Association.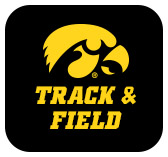 The USTFCCCA honor is the fifth of Woody's career and second this season. He earned head coach honors following the 2021 indoor and 2019 outdoor seasons, and was named Midwest Region Assistant Coach of the Year in 2013 and 2011.
The USTFCCCA honor is the fourth of Tausaga's career and only the fifth in program history. She was recognized following the 2019 indoor and outdoor seasons, and again after the 2020 indoor season. Kineke Alexander is the only other Hawkeye in school history to earn USTFCCCA regional honors (2007).
Woody led Iowa to the 2021 Big Ten Outdoor Championship on May 16. The Hawkeyes scored a school-record 127.5 points, 33 points in front of second-place Michigan. The outdoor title was the second straight for Iowa, who won the 2019 championship in Iowa City, and completed in the 2021 indoor-outdoor Big Ten championship sweep. The Hawkeyes had 15 medalists and crowned two Big Ten champions. Jaylan McConico won the 110-meter hurdles and Jamal Britt won the 400-meter hurdles.
Iowa has 10 entries on the men's side at the 2021 NCAA Outdoor Championships, including eight individual events and two relays. The men's 400-meter relay is making its eighth straight trip to the NCAA Championships. The Hawkeye men are ranked 15th in the national rating's index and first in the Midwest Region.
Tausaga won the Big Ten title in discus for the fourth straight year. She became the first Hawkeye in program history to win four Big Ten gold medals is the same event. Tausaga placed first in the shot put at the NCAA West Regional and was runner-up in discus. She qualified for the 2021 NCAA Championships in both events. Tausaga is a four-time outdoor All-American and the defending national champion in discus. She is the No. 2 seed in both shot put and discus.
Woody and Tausaga lead the Hawkeyes to the 2021 NCAA Outdoor Championships on June 9-12 in Eugene, Oregon. The meet is streamed live at Watch ESPN. Links to live results and video are available at hawkeyesports.com/tracklive.