EUGENE, Ore. — The University of Iowa men's track and field team finished 12th with a total of 19 points and recorded three first-team All-America performances Friday at the NCAA Outdoor Championships in Eugene, Oregon. Iowa recorded its best finish at outdoor nationals since 1967, when the Hawkeyes finished seventh with a total of 22 points.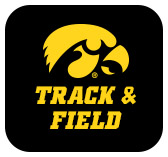 "I am just extremely proud of everyone's efforts this entire weekend," said Iowa director of track and field Joey Woody. "We just missed our team goal of scoring 20-plus and finish top 10, but I am extremely proud of this team and how well they competed this entire season. To win the Big Ten Indoor Championship, Big Ten Outdoor Championship and finish top 12 at the NCAA Outdoor Championships to complete our season is unprecedented in the history of our program. Our entire staff and athletes worked tirelessly to make this happen and I am so proud of everyone."
The Hawkeyes were the only school with two athletes in the 110-hurdle final and they did not disappoint. Jaylan McConico finished runner-up with a time of 13.38 and Jamal Britt grabbed fourth with a time of 13.45, matching his career best. The duo's performance added 13 points to the team total.
"Jaylan was running extremely well through seven hurdles, but unfortunately clipped a hurdle that got him off of his rhythm," said Woody. "I thought he recovered extremely well to finish runner-up and score big points for the team. Jamal saved his best high hurdle race of the season for the finals of the NCAA Championships. He ran amazing to finish fourth and just missed the top three. These guys set the energy for the 4×4 to close the meet."
The men added four more points in the 4×400 relay by registering a fifth-place performance. Austin Lietz, Antonio Woodard, Julien Gillum, and Wayne Lawrence, Jr. recorded a season's best time of 3:02.54, a mark that ranks third all-time in program history. It is the second straight NCAA Outdoor Championships that the men's 4×400 relay earned first-team All-America honors.
"The 4×4 guys all stepped up huge and had some monster splits to run our fastest time of the year and finish top five, scoring big team points," said Woody.
The 17 points recorded Friday by the Hawkeyes added to the two points Will Daniels picked up Thursday in the decathlon.
On the women's side, Jenny Kimbro kicked off her heptathlon competition with a 14th place finish in the 100 hurdles with a time of 13.80. Kimbro went on to finish 20th in the high jump with a mark of 1.60 meters. She posted a career best in the shot put with a mark of 11.97 meters and finished the day with a 12th place finish in the 200 meters with a time of 24.98. Following Day 1, Kimbro sits in 19th with a score of 3,291 points.
"Jenny has had some up and down events but she had a big PR in the shot and she is still in the hunt to put together a great second day," said Woody. "She finished the day with a strong 200 and sets herself up well going into Day 2. Tomorrow will be exciting with Lagi and Serena competing to make the finals and score some big team points for the women. I can't wait to watch them all compete."
UP NEXT
The University of Iowa track and field team returns to the track tomorrow for the final day of the NCAA Outdoor National Championships. Kimbro returns to the track at 1 p.m. (CT) with the long jump. Serena Brown and defending NCAA Champion Laulauga Tausaga compete in discus at 4:35 p.m. A complete schedule of events and links to live streaming and results can be found at hawkeyesports.com/tracklive.
HAWKEYES RESULTS DAY 3
110 Hurdles Final
2. Jaylan McConico / 13.38
4. Jamal Britt / 13.45
4×400 Relay Final
5. (Lietz, Woodard, Gillum, Lawrence Jr.) / 3:02.54 (SB) 3rd all-time
Heptathlon 100 Hurdles
14. Jenny Kimbro / 13.80
Heptathlon High Jump
20. Jenny Kimbro / 1.60 meters
Heptathlon Shot Put
12. Jenny Kimbro / 11.97 meters (PR)
Heptathlon 200 Meters
11. Jenny Kimbro / 24.98