IOWA CITY, Iowa – University of Iowa assistant track and field coach Eric Werskey has accepted a position as throws coach at the University of Florida. Werskey was the Hawkeyes' throws coach from 2018-21.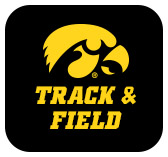 "Eric has done a tremendous job building our men's and women's throws group into a national level program," said Iowa director of track and field Joey Woody. "We appreciate everything he's done these past four years and wish him the very best in this next chapter of his career."
Werskey helped the Hawkeyes win three Big Ten team titles and seven top-three conference finishes. He coached Laulauga Tausaga to Iowa's first NCAA outdoor championship in 34 years when she won the discus title in 2019. Tausaga was a finalist at the 2019 World Championships and finished as NCAA runner-up in 2021.
Werskey saw his athletes win five Big Ten individual championships and set eight school records during his tenure.
"I came to Iowa in the fall of 2017 and Coach Woody and his staff had been piecing together some great athletes to build a championship team. I was inheriting two of the NCAA's best in Lagi (Tausaga) and Reno (Tuufuli) and in the four season here I feel great about how the throws group contributed to three Big Ten team titles and represented Iowa at the NCAA Championships," Werskey said.
"The women have completely rewritten Iowa's top 10 list and began to make those lists pretty elite. Coach Woody gives his staff a lot of freedom to recruit and utilize the resources we need to be successful. His leadership has allowed me to grow professionally, and I know whoever steps in as the next throws coach will do great things because Coach Woody values the throws as an integral piece to championship teams.
"I am excited to step into my next role at the University of Florida, but I know I owe a lot to the University of Iowa, its administration and Joey Woody for allowing me to grow and take this next step in my career. Iowa City is a special place and has left an everlasting impact on me."