IOWA CITY, Iowa – The University of Iowa women's golf program has signed four preps who will join the Hawkeyes during the fall of 2022, it was announced Tuesday by head coach Megan Menzel.
The signees include Madi Dabagia (Fort Wayne, Ind.), Kaitlyn Hanna (Omaha, Neb.), Riley Lewis (Edwardsville, Ill.) and Shannyn Vogler (Moline, Ill.).
"We are excited about the addition of our 2022 class," said Menzel. "Shannyn, Kaitlyn, Riley and Madi bring a lot of success and good momentum into our program. They have all had success at the high school, regional and national level and are great student-athletes. They are all excited to be Hawkeyes and we are looking forward to them joining our roster next fall."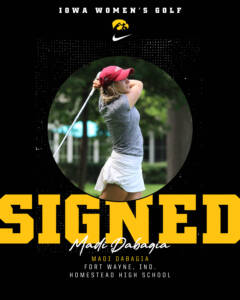 Madi Dabagia | Fort Wayne, Ind. | Homestead High School
 Four-time first-team all-state selection… three-time sectional champion… two-time regional champion… team MVP… named the Indiana Junior Girls Golfer of the Year in 2017
Placed fourth at Indiana State Meet as a freshman, second as a sophomore, fifth as a junior and fourth as a senior… first player in 22 years to finish top five all four years… helped team to a fourth, first, second and second-place state finishes
73.2 scoring average as freshman (low 69), 72.1 as sophomore (low 65), 74.5 as junior (low 69), 70.5 a senior (low 66)
Won the Indiana Junior PGA in 2021 (72-74), Indiana Girls State Junior Championship (71-71-73) and AJGA Dana Incorporated (71-68-73)… tied for second at Golfweek Junior Tour (72-72-73) and was third at AJGA Circle K Championship (71-72)
Placed fourth at Golfweek Junior Tour (77-73) in 2021 and tied for fourth at Hurricane Junior Tour (74-76)… made the cut at the 2021 National Junior PGA Championship (76-73-80-77).
Placed top three at the U.S. Kids Junior Championship in 2017… won the Golfweek Junior Tour at Kent State (74-70) in 2018… posted a top 10 finish at Golfweek Junior Tour in 2019
Posted top-10 finishes at Indiana Girls State Junior Championships in 2019, AJGA Dana Incorporated Junior Open in 2019, AJGA Mahoning Valley Hospital Foundation Junior All-Star in 2019, AJGA Junior Open (2020), AJGA Dana Incorporated Junior Open (2020), 2020 Indiana Girls State Junior, Golfweek Junior Tour at Purdue (2020), Girls Indiana Junior PGA Championship (2020)
Honor Roll and National Honor Society inductee
Why Iowa?
"On my visit to the University of Iowa, it was immediately apparent that the coaches, team, and facilities were something special, which made the decision to commit simple. I cannot wait to call Iowa my home."
Menzel on Dabagia:
"Madi is a late addition to our class and a pleasant surprise. She is a solid athlete and a player that has had a strong 2021. She won her first AJGA this past July and has continued posting solid scores at or below par. She is a strong ball striker with great speed and will transfer well to the collegiate level. This past summer Madi won the Indiana Junior Girls Championship by eight shots. She continues to rise in the junior ranks, and I believe her best golf is in front of her. We are excited to have Madi join our roster next fall."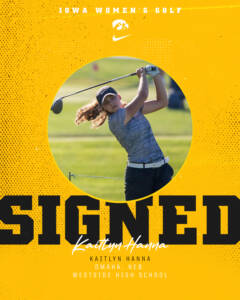 Kaitlyn Hanna | Omaha, Neb. | Westside High School
2021 Nebraska Golf Association Girls Amateur Golfer of the Year
Ranked as high as No. 76 in the class of 2022 by Junior Golf Scorecard and ranked third in region
2021 Heisman High School Scholarship School winner
Four-time Super State, four-time All-Metro captain, four-time Team Nebraska's 4 State Championship Team member… three-time Nebraska Golf Association Junior All-Star team selection… four-time team captain and team MVP
Two-time Class A state champion and two-time Class A state runner-up… first Nebraska girl golfer to win two state titles and two runner-up finishes… has second lowest round recorded in Class A State Girls Championships (69, -3)… second lowest two round score in Class A State Girls Championships (-2).
Second female golfer in Nebraska high school history to win two state titles and three Metro titles.
Won 2021 Midwest Junior Championship and tied for second at Nebraska Women's Amateur and Nebraska Junior Amateur… tied for eighth at Western Junior Championships, the highest finisher for a Nebraska high school golfer since 1980
Has a 72.66 scoring average… had a 75.4 scoring average as freshman (low round of 72), 72.08 as a sophomore (low round of 65), 73.27 as a junior (low round of 68) and 69.91 as a senior (low round of 63)… 63 is the lowest round in the history of Nebraska girls golf.
Two-time finalist for the Omaha Sports Commission Female Athlete of the Year
Also a four-year basketball letterwinner and two-year starter… earned state honorable mention honors and was a two-time state tournament qualifier
Three-time Academic All-State and National Honors Society inductee… Greater Omaha Area Scholar-Athlete of the Year (first sophomore to win the award)
Why Iowa?
"I chose the University of Iowa because I fell in love with the campus and culture. I was looking for a special golf program that offered it all to their student-athletes… academics, facilities, campus support and top-notch coaches. The University of Iowa is a great fit for me now; and will make me a better person and golfer in the future."
Menzel on Hanna:
"Kaitlyn is an outstanding two-sport athlete at Omaha Westside and I loved hearing her enthusiasm and drive to compete in both sports throughout the recruiting process. She had a strong summer and added a lot of national competition to her playing schedule and the recently crowned Nebraska Player of the Year and newly coined Hawkeye held her own. She is a competitor and I enjoyed watching her come back and win at the Midwest Junior at Glen Oaks this past summer. She brings a great work ethic and solid overall game to the next level. She will be a great addition to our team next year and will be a very solid leader for the team on and off the course."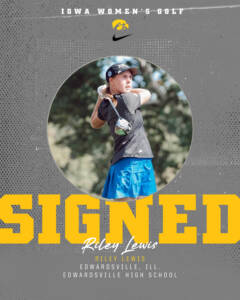 Riley Lewis | Edwardsville, Ill. | Edwardsville High School
Two-time PGA Girls Junior Championship qualifier… won the 20th annual Golfweek International Junior Invitational with a career-best four-under par 68.
Medalist at HJGT Midwest Regional Invitational… quarterfinalist at 2021 Illinois State Women's Amateur Championship and tied for fourth at Illinois State Girls Junior Championships
Did not play high school golf as junior or senior… two-time first-team all-conference, first-team all-region, first-team all-Metro and team MVP
Placed fifth at Sectionals as a freshman and third at Sectionals as a sophomore… placed 53rd at state meet as a freshman and 15th as sophomore… two-time Southwestern Conference runner-up.
High Honor Roll all four years… first-team All-Academic in 2019
National Honor Society inductee
Why Iowa?
"I knew the University of Iowa was the place for me after my first phone call with coach Menzel. The school, team and environment all felt like a perfect fit for me. I knew I would be challenged, but also supported and that ultimately led me to choose the University of Iowa."
Menzel on Lewis:
"Riley is an up-and-coming player and we are pleased that she fell in love with Iowa. I received a call about her from her uncle, former SMU coach Jason Enloe, a couple years ago and we hit it off.
She is a talented junior player who loves the game and loves to compete. We are so excited for her win at the Golfweek International Junior where she posted her career low 68. There is a lot more of this outstanding golf ahead for Riley and we are thrilled for her to be a Hawkeye."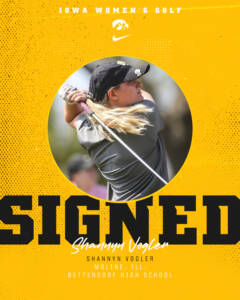 Shannyn Vogler | Moline, Ill. | Bettendorf High School
Two-time first-team all-state, two-time all-district and two-time all-conference selection… two-time district and conference medalist and two-time team MVP… sophomore season cancelled due to COVID
Class 4A state champion by five strokes as a junior… low round of 68… finished second at state meet as a freshman by one stroke in Class 4A… had a low round of 67… helped team to a state runner-up and third place finish and a first and second place conference finish.
67 at state tournament is a school record… tied for the state total score school record.
Has posted three AJGA top three finishes… medalist at the 2021 Women's Western Amateur… 2019 and 2020 Illinois Junior Girls Amateur champion… second person to win two consecutive amateurs
Member of Student Council
National Junior and National Honors Society inductee
Why Iowa?
"For college golf, I was looking for a place where I could improve my game, but also have a great team experience, both of which I can't wait to experience at the University of Iowa."
Menzel on Vogler:
"We are thrilled to have the 2021 Iowa State High School champion on our team next year. Shannyn played for coach Furne at Bettendorf High School and has posted many solid rounds as a junior player, and we are looking forward to her solid play joining our roster next fall. She is a steady player who has strong ball striking skills and will bring a great competitive attitude to our team.
"Her home course is Pinnacle Country Club in Davenport, where our alum, Erin Streick, is the head professional. Shannyn is unique story, her grandfather, Terry Vogler, has coached her and he has a done a great job developing her into a very strong player."