Dec. 8, 2013
IOWA CITY, Iowa — University of Iowa senior linebacker Anthony Hitchens and junior offensive lineman Brandon Scherff were named the Roy J. Carver Most Valuable Players as the 2013 Hawkeye football team held its annual awards banquet Sunday.
Five team captains for the 2013 season were announced, with that group including senior offensive lineman Brett Van Sloten and junior running back Mark Weisman on offense, senior linebackers Christian Kirksey and James Morris on defense and deep snapper Casey Kreiter on special teams.
Scherff (left tackle) and Van Sloten (right tackle) each started all 12 games. The Hawkeye offense averaged 188.6 rushing yards per game and the offensive line allowed just 12 sacks. Scherff was named first team All-Big Ten by league coaches, while Van Sloten was a second team selection. Scherff is from Denison, Iowa and Van Sloten is from Decorah, Iowa.
Hitchens (Lorain, Ohio) led the Hawkeyes in tackles (102) for the second straight season, earning second team All-Big Ten honors. Morris (99) was second in tackles while leading the team in tackles for loss (15.5-54), sacks (6-33) and interceptions (four). Weisman (Buffalo Grove, Ill.), led Iowa's offense in rushing attempts (209), yards (938) and touchdowns (seven). Kreiter (DeWitt, Iowa) has handled all deep snaps for punts, field goals and PATs for three seasons and earned honorable mention all-conference honors.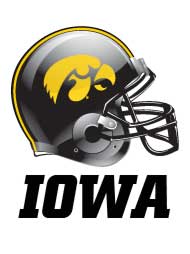 Morris (Solon, Iowa), joined Hitchens in garnering second team All-Big Ten honors, while Kirksey (St. Louis, Mo.), earned honorable mention recognition from both league coaches and media. Morris (392), Kirksey (308) and Hitchens (260) rank sixth, 17th and 27th, respectively, in career tackles.
The Hayden Fry "Extra Heartbeat" Award was presented to five Hawkeyes, including Van Sloten (offense), Hitchens, Kirksey, Morris (defense) and Kreiter (special teams). Morris also earned the Forest Evashevski Scholastic Achievement Award, which is presented to a senior student-athlete who has the highest scholastic record, and the Iron Hawk Award. Morris has a 3.84 grade point as a Political Science major and earned first team Capital One Academic All-America honors. The Extra Heartbeat Award goes to team members who have shown outstanding leadership and dedication throughout the year, along with demonstrating exemplary leadership.
Van Sloten and Morris shared the Players Choice Award. The Players Choice Award is voted on by all team members and is based on consistent effort, preparation, and attention to detail, sacrifice and readiness.
Kreiter was recognized with the 2013 Brett Greenwood Award, which is awarded to a walk-on student-athlete who embodies the values and behaviors of former Hawkeye walk-on Brett Greenwood. Greenwood is a former Hawkeye defensive back from Bettendorf, Iowa, who completed his playing career in 2010. Kreiter has handled deep snaps for the last three seasons.
Established in 2011, the Greenwood Award also honors a former Hawkeye who fits the description, one year at a time, for each season Kirk Ferentz has coached the Hawkeyes. That recipient this year is 2002 senior defensive back Derek Pagel, who shared the team lead with four interceptions in his final season.
Four Hawkeyes earned the Next Man In Award. Those players include senior wide receiver Donald Shumpert (St. Louis, Mo.), on offense, junior end Mike Hardy (Appleton, Wis.) and freshman cornerback Desmond King (Detroit, Mich.), on defense, and senior defensive back Gavin Smith (North Liberty, Iowa), on special teams.
Team Hustle Awards were awarded to Scherff on offense, junior tackle Louis Trinca-Pasat (Chicago), on defense and sophomore linebacker Travis Perry (Urbandale, Iowa) for special teams.
The Coaches Appreciation Award was presented to six Hawkeyes. Those players included senior tight end C.J. Fiedorowicz (Johnsburg, Ill.), sophomore quarterback Jake Rudock (Weston, Fla.) and junior wide receiver Kevonte Martin-Manley (St. Louis, Mo.), on offense; senior defensive back Tanner Miller (Kalona, Iowa), and junior defensive back John Lowdermilk (Carrollton, Ohio) on defense. Senior defensive back B.J. Lowery (Cincinnati, Ohio) was honored for both defense and special teams.
Kreiter and senior kicker Mike Meyer (Dubuque, Iowa) were recognized with the Reggie Roby Special Teams Award. Kreiter was recognized as specialist, while Meyer was recognized for overall contributions. Meyer, who has made 120 consecutive PAT attempts over the past three seasons, ranks second in career points (322) and field goals (61). Meyer was named second team All-Big Ten by league media.
Team Leader Awards were presented to eight players. On offense the award went to freshman lineman Boone Myers, freshman running back Akrum Wadley (Newark, N.J.) and redshirt freshman lineman Mitch Keppy (Port Byron, Ill.). Defensive players sharing the honor include freshman linebacker Josey Jewell (Decorah, Iowa), freshman linebacker Bo Bower (West Branch, Iowa), and freshman defensive lineman Nathan Bazata (Howells, Neb.). Freshman defensive back Malik Rucker (Minneapolis, Minn.), and junior linebacker Chad Gilson (Urbandale, Iowa) were recognized for special teams play.
The Player Appreciation Award was presented to Stew and LeNore Hansen of Des Moines. Stew and LeNore are longtime UI contributors who have been football season ticket holders for more than 25 years. In addition to their generous support of the Iowa Football Legacy Campaign and Carver-Hawkeye Arena Enhancement Campaign, the Hansen's previously provided a courtesy car to the Iowa Football equipment staff. Stew and LeNore received the National I-Club Hawk of the Year award in 2010.
The Bump Elliott Appreciation Award went to Russ Haynes, Doug West and Gregg Graff. Haynes and West serve as Associate Directors for UI Athletic Training Services, while Graff is an assistant athletic trainer with the Hawkeye football program.
The Distinguished Service Award was presented to Dr. Ned Amendola, director of the UI Sports Medicine Center.