Gameday Schedule
12:30 PM  Hawk Walk
1:00 PM  Gates Open
2:20 PM  Hawkeye Marching Band Pre-Game Show
2:25 PM  Football Intro Video
2:33 PM  Swarm
2:40 PM  Kick-off
4:00 PM  Halftime: HMB Show & HOF Recognition
6:30 PM  Post-game with Coach Ferentz
WHAT'S NEW IN 2021
ALCOHOL sales in Kinnick Stadium
MOBILE TICKETING and parking
New stadium map and ENTRY GATES
All concession stands and parking will be CASHLESS
Entry Gates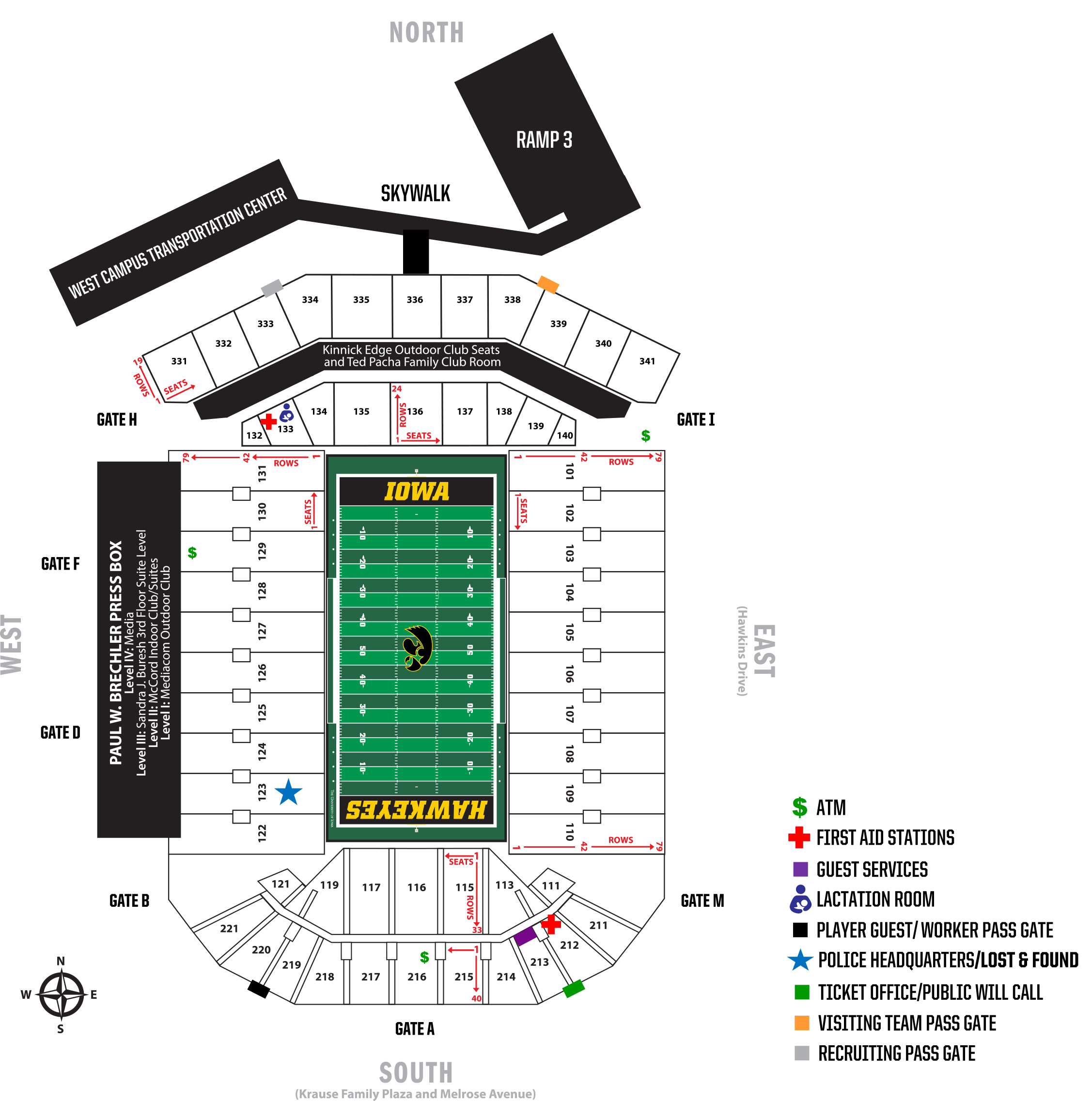 Entry into Kinnick Stadium is only allowed via Gates A, B, H, I, and M.
Gate A: South end of the stadium
Gate B: Southwest corner of the stadium
Gate H: Northwest corner of the stadium
Gate I: Northeast corner of the stadium
ALCOHOL AT KINNICK STADIUM
Beer, wine, & hard seltzers will be sold inside Kinnick Stadium through the UI pilot program. Outside alcohol of any kind is not permitted inside Kinnick Stadium.
Alcohol Policy:
You must be 21 to purchase alcohol. No exceptions.
A valid ID is required for every sale.
Limit two (2) drinks per transaction.
No sales or service to anyone believed to be or who is visibly intoxicated.
Underage drinking is illegal.
Purchasing or providing alcohol to minors is illegal.
Guests who violate this policy may be ejected and risk arrest and loss of ticket privileges.
Sales will start when the gates or doors open.
Sales will end at the beginning of the 4th Quarter.
COVID-19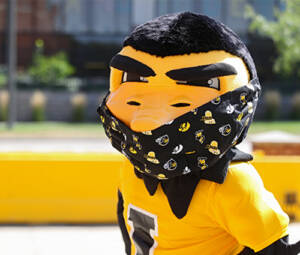 While the University of Iowa appreciates the sentiments expressed by the mayor, his order does not and cannot apply to the University of Iowa. As a state agency, the university must comply with state law and our governing body, the Board of Regents, State of Iowa. The Iowa City mask mandate recently put in place does not apply to Kinnick Stadium and other UI athletics facilities. The University of Iowa strongly encourages the use of face masks, especially when in the classroom and office hours, but it is not required.
"I'm going to continue to encourage every student, coach, staff member, and Hawkeye fan to get vaccinated until we can beat this virus. I also strongly encourage fans to wear a mask to Hawkeye Football games this fall."

Gary Barta, Henry B. and Patricia B. Tippie Director of Athletics Chair
In order to provide a safe, in-person gameday experience, the University of Iowa Athletic Department will continue to rely on guidance from the Board of Regents, State of Iowa; the Iowa and Johnson County departments of public health; the Big Ten Conference; and the Centers for Disease Control and Prevention. At this time, masks are not required for those who have been vaccinated.