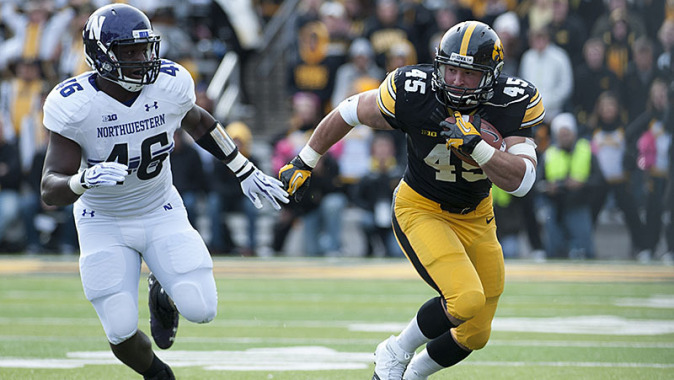 Aug. 4, 2014
Big Ten Network: Free Hawkeye Video

Editor's Note: The following first appeared in the University of Iowa's Hawk Talk Daily, an e-newsletter that offers a daily look at the Iowa Hawkeyes, delivered free each morning to thousands of fans of the Hawkeyes worldwide.

By MATT WEITZEL
hawkeyesports.com

IOWA CITY, Iowa — University of Iowa senior Mark Weisman finishes each play to the whistle, so it's no surprise who the running back's favorite player was growing up.

"I used to watch film of Walter Payton," said Weisman. "He's an inspiration. Being from the Chicago area (Buffalo Grove, Illinois), I never got to see him play live, but I used to watch him all the time on replays and YouTube.

"I heard about 'Walter Payton's Hill', so I always tried to run hills, which I still do to this day."

It's that kind of toughness that Weisman wants fans to remember him by when finishes his final season as a Hawkeye.

"I'd like fans to remember me as a guy who finishes runs and gives his all," Weisman said. "Coach (Chris) Doyle always says the biggest compliment you can get is when someone says that a guy finishes a play."

In two years of game action after transferring from Air Force and redshirting in 2011, Weisman has been a bruising back that has led Iowa's ground attack. The 6-foot, 240-pounder enters this season with eight 100-yard rushing games and ranks 14th in career rushing yardage (1,790) at Iowa. He also ranks 15th in rushing attempts (368) and rushing touchdowns (16).

Weisman doesn't take credit for his success, but rather praises his offensive linemen for creating holes.

"Personal numbers don't mean anything to me," said Weisman, who was named a permanent team captain after last season. "I want to help the team any way possible. It all starts up front with a good offensive line. Winning is the most important thing."

Northwestern head coach Pat Fitzgerald admires Weisman's tough-physical style of attack.

"You better get your pads down when you try to get him on the ground because he's going to try to put his mustache on yours, and he takes pride in it," Fitzgerald said at Big Ten Media Day in Chicago. "He's a rock-em, sock-em robot, and he's going to knock your lips off. I love the way the kid plays."

Weisman's humble approach toward his teammates is refreshing. He says seeing the work the offensive linemen put forth is motivating.

"Watching what those linemen do out there — that motivates you," said Weisman. "They're doing their job so it's me and the other running backs' job to make sure we're reading the right holes. It's unbelievable what they do, they don't get enough credit."

Averaging 193 carries the last two seasons, and with a handful of other running backs with experience, UI head coach Kirk Ferentz expects Weisman's work load to be a bit more manageable this fall.

"The good thing with our running back situation, as opposed to two years ago, is that we have a chance to use (Mark) a little more judicially this year," Ferentz said. "Hopefully, we can do a better job keeping him fresh throughout the entire season so he can play at a level where he's fully effective."

"I want to make my senior year a special one," Weisman said.

The Hawkeyes open the 2014 season by hosting Northern Iowa on Aug. 30 inside Kinnick Stadium. Tickets are available for purchase by calling (800) IA-HAWKS or logging on to hawkeyesports.com.