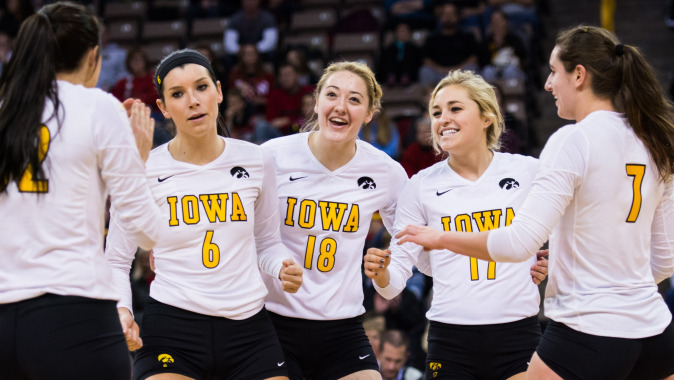 Aug. 5, 2014
IOWA CITY, Iowa — The University of Iowa volleyball program earned the American Volleyball Coaches Association (AVCA) Team Academic Award for the 2013-14 season after maintaining at least a 3.30 cumulative team grade point average. The Hawkeyes were one of 134 Division I teams to be recognized — a new record for the award.
The accolade joins the long list of additional academic honors given to last year's squad. Four student-athletes — Katie Kelley, Alli O'Deen, Emily Yanny and Bethany Yeager — were named Big Ten Distinguished Scholars and nine — Julianne Blomberg, Grace Burns, Kelley, Erin Leppek, Alex Lovell, O'Deen, Anne Yanda, Yanny and Bethany Yeager — earned Academic All-Big Ten honors. Nine Academic All-Big Ten honorees tied an Iowa school record that was established in 2008.
To view the full list of AVCA Team Academic Award recipients, visit avca.org.
The Hawkeyes open the 2014 season at a tournament hosted by Texas A&M, Aug. 29-30, under new leadership in first-year head coach Bond Shymansky, associate head coach Michaela Franklin and assistant coach Jackie Simpson.