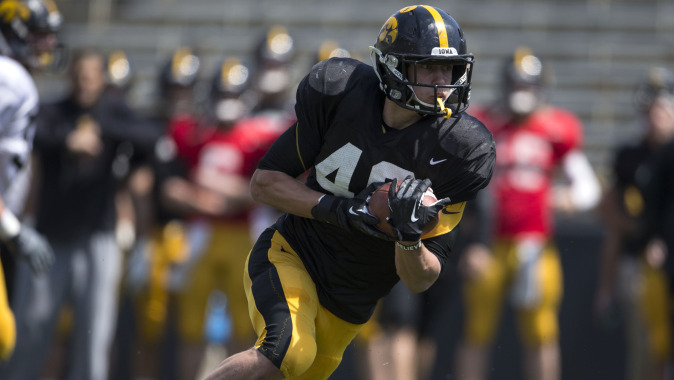 Aug. 12, 2014
Fall Camp Practice No. 11

Q: What have you been working on the most during the offseason?
A: A big thing for me, being a tight end, I'm a little underweight — especially when I came here. I've been working really hard on increasing my strength and size. Another thing that my coaches told me that I need to work on was my route running. I may have good speed, but if I can't run good routes I won't be able to get open.
Q: Do you have any pregame rituals?
A: I have about ten songs I usually listen to. Right when I get off the bus I'm usually listening to some kind of dubstep song. Before the game, I always run out and say a prayer right on the goal line.
Q: What is it like running out in front of 70,000 screaming fans on game day?
A: It's an incredible experience. My dad told me about it when I was growing up because he played here. He told me you have to experience it for yourself. The first time I did it was probably the greatest feeling I've ever had. It's a rush of so many different emotions; it's just a great feeling.
Q: What are your individual goals for the upcoming season?
A: I want to have a bigger role with this team. I want to play more and I feel like camp is a great time for me to prove that.
Q: What would a Big Ten Championship mean for this program?
A: We haven't won a Big Ten Championship since 2004, so it would mean a ton. It would set the path and stone, and we would be going to better places. I think it would be real great for the city as well.
Q: If you could play a different position on the field, what would it be?
A: Free safety, definitely. That's what I played in high school and I absolutely loved it.
Q: Is there any significance to No. 46?
A: No. On my official visit I met with Coach Ferentz and he said he chose it for a specific reason, but I can't remember.
Q: Outside of football, what are some hobbies you enjoy?
A: I'm an Xbox guy, I enjoy playing Call of Duty. Other than that, I like going to movies and playing basketball at the recreation center.
Q: If there was a theme song to your life, what would it be?
A: That's a tough one. There are so many songs out there that I don't think I could pick just one.
Q: Pancheros or Chipotle, which do you prefer?
A: I don't like either of those so I'm going to have to go with Qdoba. I've had Pancheros too much since I've been here so I've kind of gotten over it, and I've hated Chipotle my entire life.