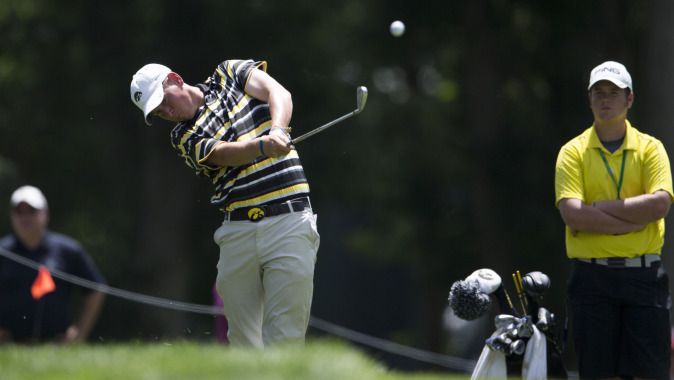 Aug. 13, 2014
IOWA CITY, Iowa — The University of Iowa men's golf program announced its 2014-15 schedule on Wednesday. The slate features two home events — the GolfWeek Conference Challenge and the Hawkeye Invitational.
Iowa, 1-of-3 Big Ten teams to appear in six-straight NCAA Regionals, opens its fall season by hosting a national field at the GolfWeek Conference Challenge on Sept. 14-16 at Spirit Hollow Golf Course in Burlington, Iowa. The event will feature 12 teams from 12 conferences. The Hawkeyes tied for sixth in last year's event, and last won the tournament in 2010.
Iowa will participate in the Windon Memorial Classic on Sept. 21-22 in Skokie, Illinois, at the Evanston Golf Club. The Hawkeyes then travel to Durham, North Carolina, on Oct. 11-12, to compete in the Rod Myers Invitational for the fifth consecutive year. Iowa won the tournament in 2010.
The Hawkeyes continue play Oct. 17-19 by traveling to Atlanta, Georgia, to participate in the U.S. Collegiate Championship. Iowa closes out its fall slate by competing in the Royal Oaks Intercollegiate in Dallas, Texas, on Oct. 27-28.
Iowa kicks off its spring with the Black and Gold Challenge at Mirasol Country Club in Sarasota, Florida, on Feb. 7. The Hawkeyes will then head to Palm Coast, Florida, for the Big Ten Match Play Championships on Feb. 15-16. The event will be televised on a tape delay on BTN.
On March 20-22, the Hawkeyes will make an appearance at the Schenkel Invitational in Statesboro, Georgia, for the first time since 2009. Iowa then heads to Scottsdale, Arizona, on March 28 to participate in the Arizona Match at Desert Mountain Country Club. The Hawkeyes return to Arizona on April 2-4 to compete in the Arizona State Thunderbird Invitational, an event in which they finished runner-up in 2014, led by senior Brian Bullington's third place finish.
Iowa looks to defend its 2014 Hawkeye Invitational title on April 18-19 at Finkbine Golf Course in its final event before postseason play. The Hawkeyes travel to Evansville, Indiana, for the Big Ten Championships at Victoria National Golf Course on April 24-26. NCAA Regionals will be held May 14-16 at a site to be determined.
Iowa returns six letterwinners from last year's squad that finished third at the Big Ten Championships , including three PING All-Region honorees (Raymond Knoll, Brian Bullington, Ian Vandersee).