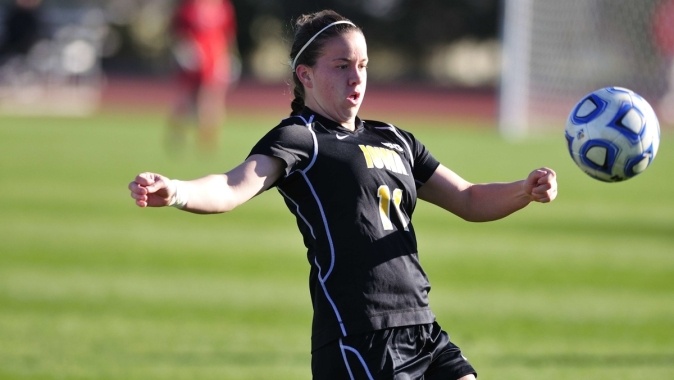 Aug. 14, 2014
IOWA CITY, Iowa —The University of Iowa soccer team fell to DePaul, 1-0, in an exhibition match Thursday at Wish Field in Chicago.
"I liked how we began the game with a great aggressive mindset to win every ball, be organized defensively, and move off the ball for one another in possession," said UI head coach Dave DiIanni. "However, our ability to sustain that needs a lot of work."
In a first half that was dominated by defense, both teams combined for a total of just six shots with the Blue Demons edging the Hawkeyes, 4-2. Neither team was able to net a shot, sending the teams into halftime scoreless.
"I feel we competed as individuals and at moments as a team, but it didn't result in generating many chances offensively," said DiIanni.
DePaul came out firing in the second half, sending three shots at Iowa goalkeeper Hannah Clark in a six-minute time span. Hawkeye sophomore Bri Toelle attempted to get the Hawkeyes on board twice, but couldn't get the ball past DePaul's goalkeeper, Megan Pyrz.
It wasn't until the 81st minute that DePaul's Amber Paul was able to get out in transition and score what was eventually the game-winning goal.
"The winning goal was an unfortunate transition opportunity, we gave up on a great shot," said DiIanni.
Senior Melanie Pickert tried to give the Hawkeyes a chance in the waning moments of the game, but her shot sailed high.
"DePaul is a good, competitive team that made the NCAA tournament last year, and we will be better for playing them," said DiIanni. "I love that we were disappointed to not get the result we wanted. It will be with that character and passion that we improve daily throughout the season."
The Hawkeyes open regular season play on the road at Northern Iowa on Aug. 22 at 7 p.m. (CT).