Dave DiIanni enters his 11th season as head coach for the University of Iowa women's soccer program. DiIanni was tabbed as the fifth coach in program history on May 17, 2014, coming to Iowa following an 11-year head coaching stint at Grand Valley State.
DiIanni, a native of Ontario, Canada, has amassed a 319-92-40 career record. He guided Grand Valley State to three NCAA Division II National Championships, nine-consecutive Great Lakes Intercollegiate Athletics Conference (GLIAC) titles, seven Final Four appearances in eight seasons and 11 straight NCAA Tournament berths while coaching 21 All-Americans. DiIanni's .895 winning percentage was tops in NCAA Division II history.
In nine seasons at Iowa, DiIanni has posted a 98-74-17 record. He has guided the program to three NCAA Tournament appearances and two Big Ten Tournament Championships. The conference tournament title in Spring 2021 was the first in program history. The Hawkeyes repeated as champions in 2023, defeating three consecutive ranked opponents for the first time in program history during the postseason run. 
Iowa finished 13-5-4 overall last season, including a 6-0-1 non-conference start and a 3-4-3 record in conference play. Iowa went 3-2-1 against ranked competition. The Hawkeyes earned the eighth and final seed to the Big Ten Tournament by a single point in the league standings before downing No. 12 Michigan State (2-1), No. 5 Penn State (1-0) and No. 12 Wisconsin (1-0) en route to their second trophy in four seasons. Iowa was the lowest seed in Big Ten history to win the conference tournament. 
Following the Big Ten Tournament Title, Iowa ascended to the highest major national rankings in program history, jumping to No. 14 in the College Soccer News ranking and No.17 according to Top Drawer Soccer. Iowa finished the regular season at 30th in the RPI, earning an NCAA Tournament fifth-seed.
The Hawkeyes downed Bucknell, 2-0, in the First Round for the second NCAA Tournament win in program history. The match was played before a program-record crowd of 2,639 at the Iowa Soccer Complex. Iowa fell in the Second Round to fourth-seed Georgia, 3-2, at Riggs Field in Clemson, South Carolina. 
The Hawkeye defense earned a program record 13 shutouts during the 2023 season. Iowa outscored opponents 36-17 with stifling advantages in shots (307-164) and shots on goal (149-75). 
Senior goalkeeper Macy Enneking tied for fifth in the nation in shutouts, posting a new school single-season record 12.5 clean sheets. Enneking finished the year ranked third for career shutouts (22) and fourth in career wins (26) among all-time Hawkeye goalkeepers. 
Fourteen different Hawkeyes contributed to Iowa's 36 goals. Senior Kelli McGroarty, a transfer student from La Salle, led the way with 18 points. McGroarty and seventh-year Josie Durr tied for an Iowa-best seven goals, with juniors Elle Otto (13) and Kenzie Roling (11) also contributing double-digit point figures. 
Fifth-year Samantha Cary was named Second Team All-Big Ten. Freshman Sofia Bush was an All-Big Ten Freshman, while redshirt junior Zoë Bessert earned conference sportsmanship honors. In the classroom, five Hawkeyes were named CSC Academic-All District, a program record.
Iowa finished with a 5-6-7 overall record in 2022, posting a 2-3-5 mark in Big Ten play. Hailey Rydberg earned All-Big Ten Third Team recognition, leading the Hawkeyes with 14 offensive points on five goals and four assists. Rydberg tied senior Caroline Halonen with a team-best five goals, while sophomore Elle Otto led the way in assists (5). 
The Hawkeyes were once again stout defensively, led by senior captains Samantha Cary and Sara Wheaton. Iowa allowed just one goal per game on average en route to six clean sheets.
Notable victories included a 2-1 upset over No. 13 Northwestern on the road, good for the fifth top-15 victory in program history. Iowa also defeated Nebraska, 4-0, to improve to 4-1-1 against the Huskers in the last six meetings; that represents a corner turned in the rivalry, as the Hawkeyes were 0-10-0 against the Cornhuskers prior to 2017.
In the classroom, Iowa had 16 Academic All-Big Ten selections; four Hawkeyes (Hailey Rydberg, Jenny Cape, Samantha Cary and Addie Bundy) earned CSC Academic All-District recognition. Cape was one of two Hawkeye athletes selected to receive the Big Ten Postgraduate Scholarship, awarded primarily for academic excellence. 
The Iowa Student-Athlete Advisory Committee named Cape the University of Iowa Women's Breakthrough Athlete of the Year, and also selected Cary for Women's Hawkeye of the Year.
In 2021, DiIanni led Iowa to a 12-6-2 season and a winning 5-4-1 record in Big Ten play.  The Hawkeyes advanced to the Big Ten Tournament semifinal with a 1-0 first round victory at Michigan State before falling to Rutgers in Piscataway. Five Hawkeyes earned Big Ten Conference postseason honors. Sara Wheaton was named to the All-Big Ten second team, while Alyssa Walker and Hailey Rydberg picked up third-team honors. Addie Bundy was a unanimous selection on the All-Freshman team and Riley Whitaker was one of 14 players to earn the conference sportsmanship award.
The 2021 postseason team marks the first time in 21 years Iowa had three players named to one of the top three All-Big Ten teams. In 2000, Sarah Lynch (first team), Julie Atkocaitis (second team) and Kate Walse each earned all-conference recognition.
Hailey Rydberg, Alyssa Walker and Sara Wheaton were also named to the United Soccer Coaches North Region Third-Team. The all-region honor was the first for all three players and marked just the second time in program history three Hawkeyes have been named to an all-region team in the same season. Cloe Lacasse, Melanie Pickert and Alex Melin were recognized in 2013.
DiIanni earned his 300th career win on Oct. 21, a 1-0 win over Minnesota. DiIanni is one of two active Big Ten coaches to reach 300 career wins, along with Nebraska's John Walker. Iowa's win in the opening round of the conference tournament at Michigan State was DiIanni's 80th win at the University of Iowa, tying Ron Rainey as the program's all-time leader.
The Iowa defense posted seven shutouts and held 18 opponents to two scores or fewer through 20 games, while eleven Hawkeyes contributed to 31 goals on the offensive side of the ball, which ranked third in the Big Ten. On Oct. 14, 2021, Iowa posted a 4-3 victory over Nebraska in which the Hawkeyes came back from a three-score deficit to earn the largest comeback in program history.
On the academic front, 19 Hawkeyes earned Big Ten Fall Academic All-Conference team recognition, matching the school record for the second straight season and the third time in program history.
The Hawkeyes started the 2020 season slowly after losing 12 seniors from the 2019 NCAA Tournament team. After going winless in their first seven games, the tide began to turn midway through the season and Iowa was playing its best soccer when it mattered most.  With an expanded Big Ten postseason schedule due to league-only scheduling because of COVID, DiIanni led the Hawkeyes to wins over second-seeded Illinois, third-seeded Minnesota in the Big Ten Regional weekend.  The team followed with a road win at top-seeded Penn State in the Big Ten Tournament semifinals before downing third-seeded Wisconsin to claim the program's first-ever Big Ten title.
The win in Happy Valley was the first for the program in school history and the fourth-ranked Nittany Lions were the highest ranked opponent Iowa defeated all-time.  Two freshmen — forward Meike Ingles and goalkeeper Macy Enneking — were named the Big Ten Tournament Most Outstanding Offensive and Defensive Players, respectively.  Ingles scored three-game winners in the tournament, while Enneking posted two shutouts and made 14 saves.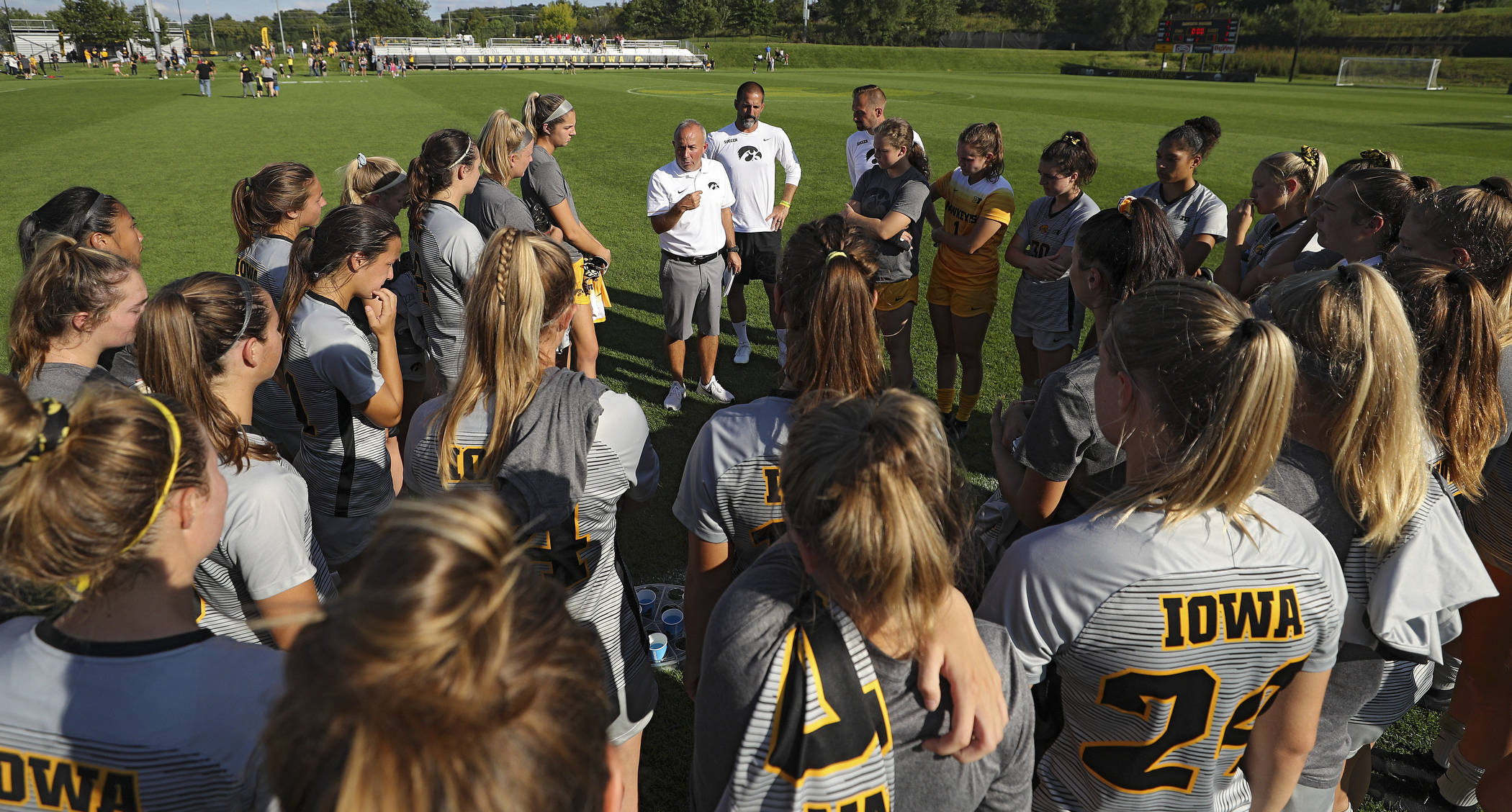 As a result, the Hawkeyes earned their second straight NCAA Tournament berth, and they continued to make history.  Shipped to North Carolina, Iowa tallied a 1-0 victory over Campbell — on the Camels' home turf — to notch the first NCAA Tournament win in the record books.  Iowa had third-seeded UCLA on the ropes in the Round of 32 before surrendering two goals late in a 2-1 defeat.
Iowa finished the season with a 7-9-1 record, but all seven of the victories came in the team's final 10 games.  Enneking was a unanimous Big Ten All-Freshman team honoree.  Academically, Iowa matched a school record with 19 Academic All-Big Ten selections, eight Hawkeyes were Big Ten Distinguished Scholars, the program had 31 Dean's List honorees (in fall and spring semesters), and the program earned the United Soccer Team Academic Award, posting a 3.49 team grade point average.
DiIanni led the Hawkeyes to one of the best seasons in program history in 2019.  Iowa tied a school record, winning its first nine games of the season, which included road wins at No. 14 NC State and Notre Dame.  It resulted in the Hawkeyes achieving the highest ranking — No. 19 — in program history.
Iowa finished with 15 wins to tie the single-season record and it earned an at-large berth into the NCAA Tournament for the second time in program history.  The Hawkeyes won seven games in Big Ten play to tie a program record and the fifth place finish was tied for the second-highest finish in school history.  Iowa also finished with a school-record nine victories at the Iowa Soccer Complex.
The Hawkeyes won with a potent offense and a stout defense.  Iowa finished with 45 goals in 2019 with an NCAA-best 16 different goal scorers.  The team ranked second in the Big Ten and 26th nationally in scoring, while posting eight shutouts.  Senior Claire Graves finished had 14 wins in 2019 — the second-most in school history — and finished with a school record 37 victories in four years.
At season's end, three Hawkeyes — Natalie Winters, Devin Burns, and Gianna Gourley — earned All-Big Ten recognition.  Winters became the first player to earn all-league honors all four seasons and she also garnered all-region honors for a second straight season.
Academically, the team was just as successful as Iowa was the only school nationally to have two first-team Academic All-Americans in seniors Kaleigh Haus and Hannah Drkulec. The Hawkeyes also boasted three United Soccer Coaches Scholar All-North/Central Region selections (Claire Graves, Drkulec, and Isabella Blackman), earned the United Soccer Team Award, and had a school-record 19 Academic All-Big Ten honorees, including four players with a perfect 4.0 GPA.
In 2018, DiIanni led the Hawkeyes to an 8-7-3 overall record and a 4-5-2 mark in Big Ten play.  Iowa was in Big Ten Tournament contention until the final game, but fell short after battling Northwestern to a 1-1 draw. Winters was a third-team all-region and third-team All-Big Ten selection — Iowa's first all-region honoree since 2014.
In the classroom, Iowa earned the United Soccer Team Academic Award for a 12th straight season and the Hawkeyes had two Google Cloud Academic All-Americans — the first two in program history.  Haus was a first-team selection; Drkulec earned second-team honors.  Iowa also had 10 players earn Academic All-Big Ten honors, 25 players with a 3.0 GPA or better, 14 Dean's List, and four President's List honorees during the spring semester.
In May, 2019, DiIanni led the Iowa soccer program on its first foreign tour in its history. The Hawkeyes traveled to Germany, Sweden, and Denmark for a 10-day tour.
During his fourth year in Iowa City, DiIanni led the Hawkeyes back to the Big Ten Tournament for the first time since 2014.  Iowa went 9-8-2 overall and tied for eighth in the conference with a 4-5-2 record.  It was a four place improvement and the team finished with a plus-eight goal differential.
Iowa was led by its underclassmen as 24 of the team's 31 goals were scored by the sophomore class.  Sophomore forward Devin Burns led the team with nine goals — the most by a Hawkeye since 2014 — and she finished with a team-best 23 points, which rank in the top 10 in school history. Graves posted seven shutouts, including back-to-back in victories over No. 23 Rutgers and Maryland to earn Big Ten Defensive Player of the Week honors.
Winters earned her second career Big Ten recognition, being tabbed as a third-team All-Big Ten selection.  Academically, the Hawkeyes earned the United Soccer Coaches Team Academic Award for the 11th straight year, and the team had 15 Academic All-Big Ten honorees.
In his third season in Iowa City, the Hawkeyes posted an 8-11-0 record with a young team featuring eight freshmen and 12 underclassmen. Winters started all 19 games and was named to the Big Ten All-Freshman Team, Graves started every game in goal, and Burns was third on the team in goals.
Iowa opened the season with six victories in its first seven games before losing 10 of its final 12 games. Six of the losses were decided by a single goal.  Academically, the Hawkeyes thrived, as 16 student-athletes earned Academic All-Big Ten recognition, tying a program record.
In his second season at Iowa, DiIanni led the Hawkeyes to a 7-10-1 overall record. Senior Hannah Clark led the Big Ten in saves (105), saves per game (5.83), and tied for sixth in shutouts (six). Clark ended her career as the winningest goalkeeper in program history (36 victories) and was tops in the record books in career shutouts (26) and third in career saves (321).
DiIanni's squad earned the NSCAA Ethics and Sportsmanship Award and six student-athletes garnered Academic All-Big Ten recognition.
On the recruiting front, DiIanni's 2016 class garnered national recognition, being ranked 28th by BigSoccer.com.
In his inaugural Hawkeye season, DiIanni led the team to a 14-7-1 overall and a 7-5-1 Big Ten record to notch the program's third top-five league finish since 2011. The seven Big Ten victories tied the program record for Big Ten wins in a single season and the 14 wins were the second-most in school history.
After entering the Big Ten Tournament as the No. 5 seed, Iowa posted victories over No. 23 Rutgers and Northwestern to advance to the tournament championship game for a second straight season. Two seniors — Cloe Lacasse and Melanie Pickert — capped their Hawkeye careers with first-team All-Big Ten and first-team all-region honors. They were the first pair in school history to earn first-team all-conference honors in the same season and the first two players to garner first-team all-region recognition.
The Hawkeyes finished 2014 with a school-record 14 shutouts in 22 games to rank 20th nationally with a .545 shutout percentage. Iowa's defense also was in the top-35 in the country in saves percentage (31st, .838) and goals against average (35th, .754).
Academically, the Hawkeyes garnered the NSCAA Team Academic Award for an eighth straight season and nine soccer student-athletes garnered Academic All-Big Ten honors. Seniors Caitlin Brown and Emily Scott were also received Scholar All-Region recognition.
DiIanni came to Iowa City following an NCAA championship season in his final year at Grand Valley State, where he guided the Lakers to their third national title in five seasons and was named the National Soccer Coaches Association of America (NSCAA) Coach of the Year for a third time. Grand Valley scored the second-most goals in program history (88), matched a program-high with 21 shutouts en route to winning the most games in school history. The team finished 24-0-1, claiming both the GLIAC regular season and tournament titles.
The Lakers opened the season with 13-straight shutouts, which matched the second-longest streak in Division II history, and five student-athletes garnered All-America recognition at season's end.
DiIanni led the Lakers to a 22-0-4 record in 2009 en route to his first national championship before winning a second-straight title in 2010. He was honored as the CaptainU Division II Women's Soccer Coach of the Year in 2009, and he coached the Division II National Player of the Year honoree in each season (Irie Dennis, 2009; Jenna Wenglinski, 2010).
DiIanni took over the Laker program in 2003 and swiftly guided Grand Valley State to a then-school best record of 17-2-2 to earn the program's first-ever NCAA Tournament berth. In year three, DiIanni led the Lakers to their first conference and NCAA Great Lakes Regional Championship, finishing 19-3 overall, and his team finished eighth in the national poll.
By year four, DiIanni led Grand Valley State to the school's first NCAA Division II National Championship game, finishing 19-2-1 overall. A year later, the Lakers made a second-straight NCAA Final Four appearance, posting a 17-0-0 mark in the regular season before finishing 21-1-1 overall.
DiIanni joined Grand Valley State after a seven-year run as head coach of the Jackson Lumen Christi High School women's soccer team. He also spent three years as an assistant coach at Hillsdale College, where he helped begin the men's and women's soccer programs.
DiIanni spent seven years working with the Olympic Development Program in Michigan, training and developing the highest level of soccer in the state. He coached the team to four Region 2 and four ODP national championships.
DiIanni, a USSF B-licensed coach, earned his associate's degree from Seneca College in 1993 and his bachelor's degree from Spring Arbor University in 1997. He and his wife, Kristy, have two daughters, Karissa and Kelsey.