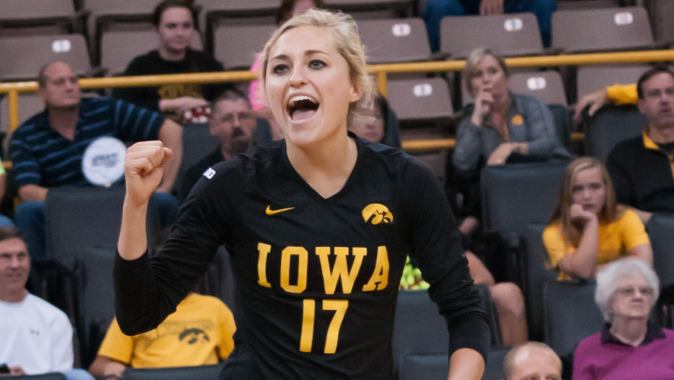 Aug. 20, 2014
Editor's Note: The following first appeared in the University of Iowa's Hawk Talk Daily, an e-newsletter that offers a daily look at the Iowa Hawkeyes, delivered free each morning to thousands of fans of the Hawkeyes worldwide. To receive daily news from the Iowa Hawkeyes, sign up HERE.
By JAMES ALLAN
hawkeyesports.com
IOWA CITY, Iowa — Sophomore setter Alyssa Klostermann gained experience during her first season with the University of Iowa volleyball team. Now she's expected to be a leader and teacher.
While learning the ins-and-outs of first-year head coach Bond Shymansky's 6-2 offense, Klostermann is also being a mentor to freshman setter Kaylee Smith.
"Our two setters are doing a nice job, but they're both still young," Shymansky said Tuesday during the Iowa volleyball media day. "That's a lot of youthful leadership out there, but they both need to be leaders."
Klostermann has experience to fall back on after playing 32 matches in her first collegiate season. She finished second on the team with 484 assists (4.84 per set), had 237 digs, and notched 10 double-doubles.
"Having that year under my belt is a comfort thing," said Klostermann. "I know what's coming at me and what to expect. Now I am getting after it. I need to take on leadership, take it to the court, and lead our team to wins."
Shymansky believes Klostermann's on-court experience is key in keeping a young team grounded.
"We're going to have a lot of new players on the court, and it's easy to get wide-eyed and distracted," said Shymansky. "Having returning players that have been there, whether it's in Carver (-Hawkeye Arena) on a big night or somebody else's gym, that's an important component. I am expecting her to help us handle the stress and pressure of that expectation to win."
Smith is one of the youngsters that will be on the court. She comes to Iowa City with a strong high school resume, having been a two-time first-team all-state selection at Indianola (Iowa) High School, but she knows the college game is different.
"Being here this summer helped to get a taste of the offense, and working with the team to get the speed of the game helped a lot," said Smith. "The speed is different; this is elite-level volleyball. I feel I have grasped it well."
Shymansky is asking a lot out of his two underclassmen setters.
"We're stretching them mentally right now, more than any other players, because they have to know what is going on every single play during the rally," said Shymansky. "They can't only be reactive or instinctual; they have to have a plan and reason. The most important thing they are going to do is know why they are making the choice they're making and to make great choices.
"Smith is a coach's kid that has a long-standing volleyball background, who knows and loves the game. Klostermann is an unbelievable competitor and court leader that has a lot of great energy. She has the leadership qualities to be that spark plug for us and be the type of player to drive us to the next level.
"We've spent a lot of time talking choice-making with them, and they're doing a great job."
The Hawkeyes host the Black & Gold Scrimmage on Saturday on Mediacom Court inside Carver-Hawkeye Arena beginning at 3 p.m. (CT). Admission is free of charge.