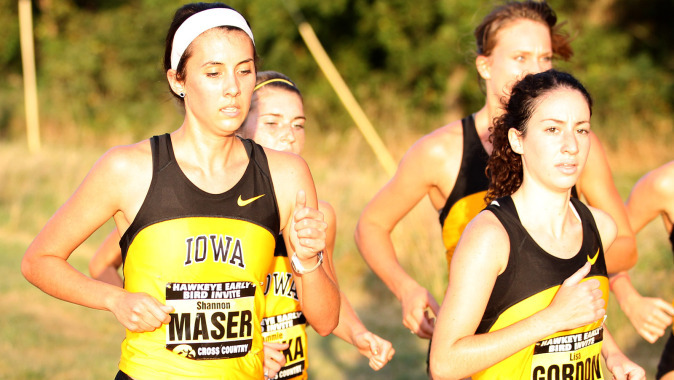 Aug. 22, 2014
IOWA CITY, Iowa — The University of Iowa women's cross country team enters the 2014 season with something it didn't have last fall — healthy harriers.
After a 2013 season plagued with injuries, the Hawkeyes are eager to take the course and showcase the potential of their young, yet talented team.
"We were decimated by injuries last season," said UI head coach Layne Anderson. "We are starting off healthy, so the goal for us going forward is to keep everyone healthy. If we do that we feel like we give ourselves a chance to go out and see what this group is capable of."
Lisa Gordon is ready to take the course following an injury-filled sophomore season. She is confident that — with a healthy team — the Hawkeyes can be more competitive.
"I want to help the team get back up to where I know we can be," said Gordon. "Last year we had a lot of struggles. I know that with the team that we have we can do big things. I hope I can be a part of that this year."
That kind of confidence is what Anderson believes will put the Hawkeyes back on the Big Ten and national stage.
"The goal is to have the Hawkeye uniform represented at the NCAA Championship," said Anderson. "They have to believe they can do that first. They have to go out and execute and have the drive and desire to want to achieve that. A confident and a healthy team lineup in late October and November is a team that I think is going to perform well."
The Hawkeyes kick off the championship portion of their schedule hosting the Big Ten Cross Country Championships at the Ashton Cross Country Course on Nov. 2. Iowa finished in the lower half of the standings a season ago, but competing at home may provide the Hawkeyes with the momentum to move up the Big Ten charts.
"During my summer workouts I was thinking about how we are going to be defending our turf at Big Tens," Gordon said. "That was something that made that extra mile go a little bit quicker."
Sophomore Samantha Zishka returns to the lineup after a freshman season that included success on the home course. Her top performance was a fifth-place finish (11:08.50; 3,000 meters) at the Hawkeye Early Bird Invitational. She hopes the home crowd will push the team to compete at a high level.
"Last year was kind of a disappointment, so this year we are motivated to show the potential we have as a team, especially at home," Zishka said. "We know this course. Being in your own comfortable situation makes you more mentally prepared to race."
"Running at home is never a bad thing," Anderson said. "Perhaps it raises our level of excitement with a home crowd. We get to stay in our routine, don't have to travel, go to class, sleep in our own beds, and run on a course we are very familiar with. It's exciting, but we have a lot of work to do to get ready."
The Hawkeyes open the season Aug. 29 at the Drake Invitational in Des Moines. Iowa hosts the Big Ten Preview on Sept. 20 before hosting the Big Ten Championships on Nov. 2. The NCAA Midwest Regional is Nov. 14 in Peoria, Illinois, and the NCAA Championships are Nov. 22 in Terre Haute, Indiana.