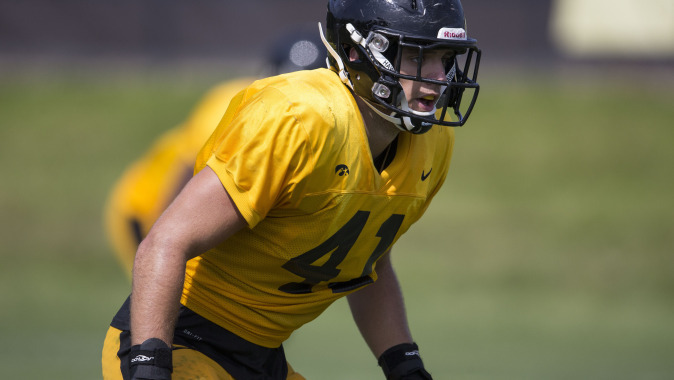 Aug. 15, 2104
Photo Gallery: Camp Practice No. 23

Big Ten Network: Free Hawkeye Video

Editor's Note: The following first appeared in the University of Iowa's Hawk Talk Daily, an e-newsletter that offers a daily look at the Iowa Hawkeyes, delivered free each morning to thousands of fans of the Hawkeyes worldwide. To receive daily news from the Iowa Hawkeyes, sign up HERE.

By DARREN MILLER
hawkeyesports.com

IOWA CITY, Iowa — The last time a graduate of West Branch (Iowa) High School started a football game for the University of Iowa, he went on to become a consensus All-American and All-Pro in the NFL.

That of course was Marv Cook, who played quarterback and defensive end for West Branch before becoming a Hawkeye tight end from 1984-88.

When Iowa releases its depth chart later today, it will include another West Branch native — Bo Bower — who is listed as co-starter at Leo (strong) linebacker with junior Travis Perry. Bower was a three-sport athlete for the Bears, graduating in 2013. West Branch, a town of 2,300, is located 12 miles from Kinnick Stadium.

A redshirt freshman, Bower has seen his weight rise from 205 pounds a year ago to 223 following practice Thursday. During his first season in the program, he watched and learned from linebackers Christian Kirksey, Anthony Hitchens, and James Morris. All three are in NFL camps.

"Chris, James and Hitch, were good leaders," Bower said. "Coach (LeVar) Woods is a great teacher. Once I got better at the playbook and knew what I was doing I could play faster."

All players making their collegiate debut emphasize an adjustment period as they acclimate to an increased tempo. Bower is no different, but he said becoming comfortable with the playbook makes it easier.

"Once you know what you're doing, you can play faster so the game slows down," Bower said. "The hardest thing was getting to know the defense and playing fast to the ball."

Woods and Bower echo that there is still knowledge to gain and learning to do, but it is hard work has allowed Bower to quickly climb the depth chart.

"Bo Bower used last year on the scout team to his advantage to learn how to play football and compete hard every day," Woods said. "He busted his tail and that's what put him in this position."

Bower originally committed to play at Northern Iowa, but made a late switch to become a Hawkeye. He won't be the only West Branch native on the field Aug. 30 when those two teams meet in the season opener. Starting on the offensive line for the Panthers is senior Jack Rummells.

"He will be playing tackle or guard, and he is a good friend, so that will be cool," Bower said. "It will be a good game."

It will be the first time Bower is in Kinnick Stadium as a participant instead of a fan. More than 70,000 are expected as the Hawkeyes seek their 13th season-opening victory in the last 14 years.

"It's going to be awesome, unreal," Bower said.

When Bower was a high school senior, West Branch advanced to the Class 1A state football playoffs. The Bears won their postseason opener 33-0 before falling in the second round, 27-9, to eventual champion Iowa City Regina.

The Regals were, and still are, coached by Marv Cook. The same Marv Cook who is the last West Branch native to start a football game for the University of Iowa. Until Aug. 30, that is.

The names Cook and Bower are intertwined once again.