Box Score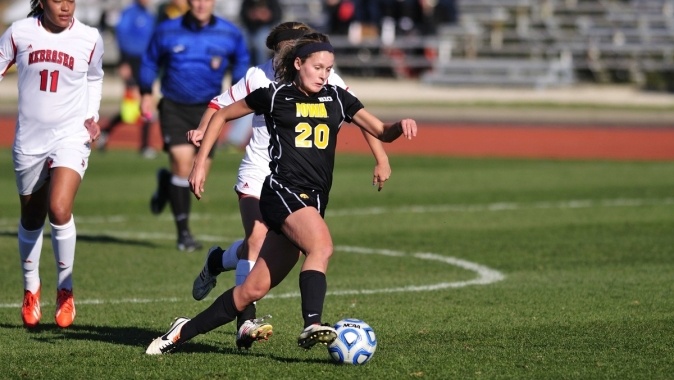 Aug. 24, 2014
CHICAGO — Senior Cloe Lacasse's two goals helped propel the University of Iowa soccer team to its second victory of the season — a 4-0 victory over the University of Illinois-Chicago on Sunday afternoon at Wish Field in Chicago.
"You never want to complain about getting a win, but today was certainly not our best performance as a team or by individuals," said UI head coach Dave DiIanni. "We looked tired physically and that led to a lack of emotion, fitness, and tactical urgency to play better as a group."
It didn't take long for the Hawkeyes to get on the board as sophomore Bri Toelle found the back of? the net less than 10 minutes into to the game. Freshman Aubree Larson was credited with the assist on the play.
Thirty-one seconds later at the 8:48 mark, Lacasse notched Iowa's second goal to put the Hawkeyes up 2-0.
The Hawkeye offense continued to be aggressive in the second half, firing off 12 shots to push their total to 18 for the day. Of those 12 shots, two found their way past UIC goalkeeper Kelly Fritz.
Senior Melanie Pickert scored her first goal of the season to put Iowa up 3-0 in the 62nd minute off another assist from Larson. Two minutes later, Lacasse extended Iowa's lead to 4-0 with her second goal of the day and the 33rd of her career.
Senior Kiley Beck picked up her second win in as many games, registering two saves for a Hawkeye defense that posted its second-straight shutout. Iowa limited the Flames to 14 shots on the day.
The Hawkeyes (2-0) are back in Iowa City on Aug. 29 for their home opener against Fresno State at the Iowa Soccer Complex. The contest is scheduled for a 7 p.m. start time.
"It's a great group of girls who love to play for one another, so we will only get better," said DiIanni. "We are very excited to return home next weekend for our home opener with Fresno State."?