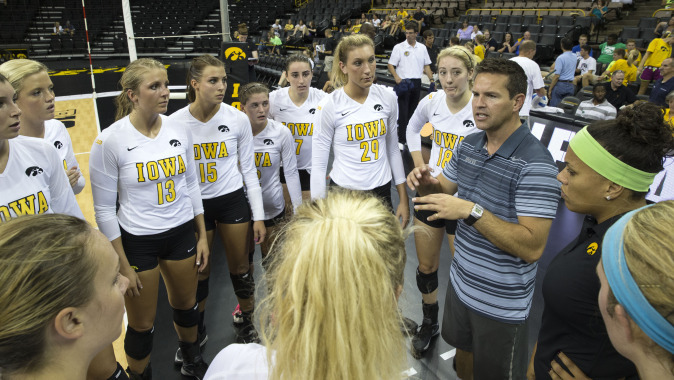 Aug. 26, 2014
Editor's Note: The following first appeared in the University of Iowa's Hawk Talk Daily, an e-newsletter that offers a daily look at the Iowa Hawkeyes, delivered free each morning to thousands of fans of the Hawkeyes worldwide.
By JIL PRICE
hawkeyesports.com
IOWA CITY, Iowa — The University of Iowa volleyball program gained valuable experience and energy from its annual Black and Gold Scrimmage on Aug. 23 and is even more prepared for season-opening action at the Texas A&M Tournament, Aug. 29-30.
"We looked game-ready," said first-year head coach Bond Shymansky. "You could tell we were bouncy. We loved having the home atmosphere of Carver-Hawkeye Arena come to life with so many fans showing up.
"I liked the energy we started out the match with and that we have so many people contributing. We still have a lot to figure out, but that's what the preseason is for. We want to dial in our line-up so we can be as competitive as possible going into Big Ten play."
"We've been having good practices, but there's nothing like competing in front of an audience," senior defensive specialist Kari Mueller said. "We got to play in Carver-Hawkeye Arena, in front of a crowd, live; I don't think anything else could have gotten us more prepared for this weekend."
The crowd wasn't the only benefit of the scrimmage. It also gave Shymansky and the coaching staff the ability to identify and improve any of the team's weaknesses this week in practice before making the trip to College Station, Texas.
"It always tends to come back to the same things, serving and passing," Shymansky said. "Those are the skills that we want to be solid with. There were times that our ball control was good and there were times that we gave up points on miscommunication. Those are teamwork things that we'll make sure we hone as we prepare to play at Texas A&M."
While some areas still need tweaking, one goal is constant and strong — the Hawkeyes want to win.
"We want to stay focused and have a winning mentality," sophomore setter Alyssa Klostermann said. "It's going to be different playing a school in a different conference, and it's going to be different playing after traveling. All of us are going to do our best and compete to win because that's what we're here for."
"Our goal is to come out, compete, and win," Mueller said. "We've had a winning mentality throughout the preseason and our focus is to believe and play. If everyone on our team can have that mentality, we will do what we've set our minds to."
Iowa starts the tournament play with matches against the host Aggies at 10 a.m. (CT) and Texas-San Antonio at 7:30 p.m. Friday, before concluding action against Tulane at 12:30 p.m. Saturday.
All matches will be broadcast on SEC Network +, available only on WatchESPN through participating television providers. To access live scoring links, match results and box scores, visit the Tournament Central page at 12thman.com.