Aug. 27, 2014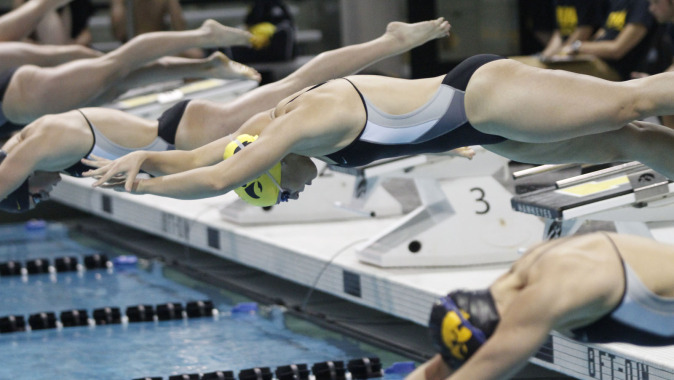 IOWA CITY, Iowa — University of Iowa swimmer Emma Sougstad has earned a spot among the top 50-ranked swimmers in the world, following competition at the 2014 Summer Nationals in Irvine, California.
Sougstad, a sophomore from Forest City, Iowa, ranks 44th worldwide in 50-meter breaststroke competition, a position she never saw possible.
"I am so surprised, never in my wildest dreams did I ever think that I could compete on this level," Sougstad said. "As I stepped behind the blocks at nationals, I was in awe of all of the big names that were swimming in the lanes next to me, and it was an honor to wear the Hawkeye cap and represent a team that I love and care for so much."
Coming from a town of around 4,000 residents, Sougstad never imagined the possibility to swim at Nationals or at the collegiate level.
"Growing up in the small town, I didn't think I could swim in college, but I knew I could dream," Sougstad said. "I remember, as each season went by, the dream became a little bit more realistic. I love to look back at the journey of how I became a Hawkeye and I couldn't be more blessed to have the best support system."
Sougstad's ranking came after placing 19th in 50-meter breaststroke competition at the Phillips 66 National Championships earlier this month, propelling her to the status of competing as a world-class swimmer.
"I'm not sure what it means to be a world class swimmer," Sougstad said. "I try not to concentrate on where I am, but rather, where I can go. I have big dreams for this season that can hopefully become a reality for me and the Hawkeye swim team."
"I have a lot of goals and expectations for this upcoming season not only for myself, but also the other 32 girls that God has put in my path to work together to accomplish the same goal. This season is going to be fun and exciting; so I hope to see everyone packing the pool to cheer on your Hawkeyes!"
Sougstad credits coaches and teammates for the success found early in her collegiate career.
"This year has been one of the biggest transitions of my life," Sougstad said. "The coaches pushed me past my limits in every physical way, but it was worth it. My teammates are the biggest part of the success that I have experienced. They pushed me just as hard as the coaching staff by holding me accountable for giving my best each time I push off the wall, and by racing me, and giving words of encouragement in the few seconds we get a break between swims."
UI head swimming and diving coach Marc Long credits Sougstad's competitive drive and positive attitude toward the success she has claimed through her first year as a Hawkeye.
"One of the best traits of Emma is her determination to race and win," Long said. "Emma is a determined, fierce competitor. She comes to us from Forest City, Iowa, where she had to drive her car every morning to the closest town with a swim team, Mason City. She was successful earning multiple state titles and breaking various school records.
Long recognized Sougstad's approach at the Summer Nationals and credits her ability to stay focused and swim just as she had in previous meets last season.
"She kept a positive attitude, open mind, and a competitive drive while racing some of the world's best this summer," Long said. "This approach earned her a trip back to the consolation finals session at night, and a world ranking (Top 50) in the 50-meter breaststroke."
Sougstad and the Hawkeyes open the 2014-15 season, hosting Michigan and Nebraska on Oct. 3, at the Campus Recreation and Wellness Center Pool.