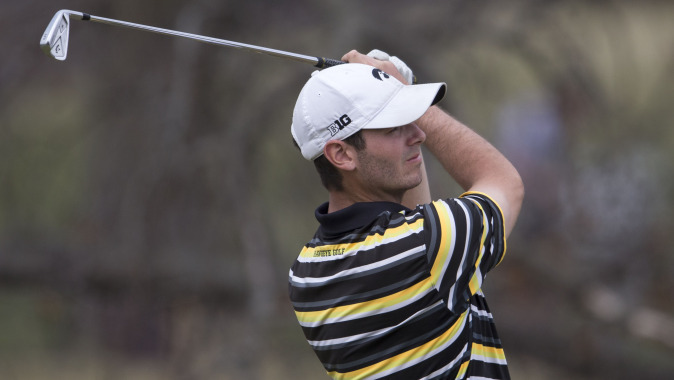 Sept. 3, 2014
IOWA CITY, Iowa — Three University of Iowa men's golfers — seniors Brian Bullington and Ian Vandersee, and sophomore Raymond Knoll — have been selected to the 2014-15 Big Ten Men's Golfers to Watch List, the conference announced Wednesday. Each member of the trio garnered PING All-Region honors last year.
Bullington, from Frankfort, Illinois, appears on the list for the second-straight season. He earned second-team All-Big Ten and PING All-Region honors during the 2014 campaign, posting his career-best finish at the Arizona State Thunderbird Classic where he tied for third with a 206 (-7). Following his performance, he was named the Big Ten Player of the Week for the first time in his career. He tied for fourth place at the 2014 Hawkeye-Great River Entertainment Classic, carding a 215 (-1). Bullington tied for the second-most top-10 finishes on the team (two), and held the second-best scoring average (73.14) of all Hawkeye golfers.
Vandersee garnered second-team All-Big Ten and PING All-Region honors during the 2014 campaign. The West Des Moines, Iowa, native tied for seventh at the 2014 Big Ten Championships (299, +11). Vandersee tied for 11th at the Boilermaker Invitational, posting a 218 (+2), and tied for 17th at ASU Thunderbird Invitational, firing a 212 (-1). He posted the second-most top-10 and top-20 finishes (two, four) on the team while posting a scoring average of 73.32.
Knoll, a sophomore from Naperville, Illinois, enjoyed quite a summer and freshman campaign a year ago. He won the 84th Illinois State Amateur Championship and Pine Hills Invitational. Knoll made his PGA TOUR debut at the 2014 John Deere Classic after qualifying at the John Deere Classic Open Qualifier on July 7. He fired a seven-under-par 65 at Pinnacle Country Club in Milan, Illinois, to tie Armando Villarreal of Dallas, Texas, to earn one of four qualifying spots. He finished +3 at the John Deere Classic (74, 71).
As a freshman, the PING All-Region honoree registered his best finish of the season at the Boilermaker Invitational, where he tied for sixth (215, +4). In his final round of play at the event, Knoll carded a 66 (-6), which equaled the fourth-lowest round in program history, as Iowa rallied to earn the team title. He tied for 12th at the Big Ten Championships (300, +12), placed 15th at the Hawkeye-GRE Invitational (220, +4), and tied for 26th at the NCAA Columbia Regional (216, E).
The Hawkeyes — one-of-three Big Ten teams to appear in NCAA Regional competition in each of the last six years — open the 2014-15 campaign Sept. 14-16, hosting the annual Golfweek Conference Challenge at Spirit Hollow Golf Course in Burlington, Iowa.