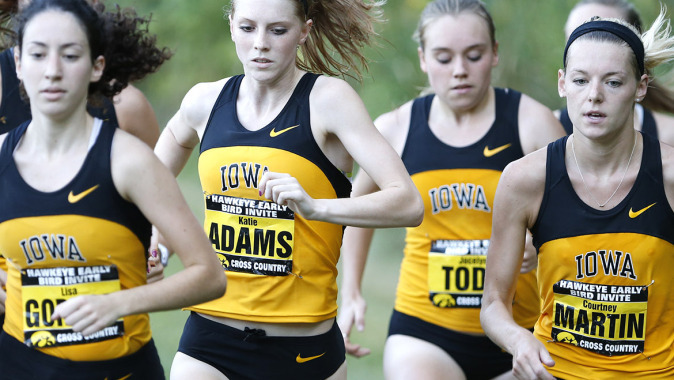 Sept. 10, 2014
Weekly Release

THIS WEEK
The University of Iowa men's and women's cross country team travels to Normal, Illinois for the Illinois State Invitational on Friday. The women's 5,000-meter race will begin at 5 p.m. (CT) and the men's 8,000-meter race will follow.
ANDERSON RECORDS FIRST WIN
Ben Anderson came away with his first collegiate win at the Bulldog 4K Classic. The sophomore crossed the finish line with a time of 12:30. Six of Iowa's seven competitors placed in the top 10. Iowa dominated the field with a 51 point win over second-place Creighton. Freshmen Brook Price and Josh Sindelar made their collegiate debuts, placing fifth (12:42) and 19th overall (13:03).
BRUNS MAKES HAWKEYE DEBUT
Freshman Courtney Bruns opened her career as a Hawkeye with an eighth place finish (15:08) to lead the team. Junior Jocelyn Todd followed with a 12th place finish (15:24). Iowa finished fourth overall, falling two points shy of Northern Iowa's team score.
IN THE RANKINGS
The men's cross country team is currently ranked 15th in the Midwest Region.
SEASON DEBUTS
Iowa's top two returners, seniors Kevin Lewis and Ben Witt, are expected to make their season debuts Friday. Lewis returns as the Hawkeyes' top finisher from 2013, leading the team in each of his five competitions. Also making his season debut is sophomore Kevin Docherty, who competed in every meet for the Hawkeyes last season. On the women's side, Lisa Gordon will compete for the first time since her injury last fall. Gordon owns the 10th best time in school history in the 4,000 meters, which she recorded at the 2012 Toledo Bubble Buster.
HEAD COACH LAYNE ANDERSON
Layne Anderson is in his 12th year as the head coach for the Iowa women's cross country team, and his first year as the head coach for the men's cross country team.
2014 BIG TEN CHAMPIONSHIPS
The 2014 Big Ten Championships will take place on the Hawkeyes' home turf at the Ashton Cross Country Course on Nov. 2. This year's meet marks the 100th running of the Big Ten Men's Cross Country Championships. For more information go to http://www.hawkeyesports.com/sports/c-xc/spec-rel/iowa-xc-big10-championship.html.
UP NEXT
Iowa hosts the Big Ten Preview at the Ashton Cross Country Course on Sept. 20th. The event starts at 8 a.m. (CT).