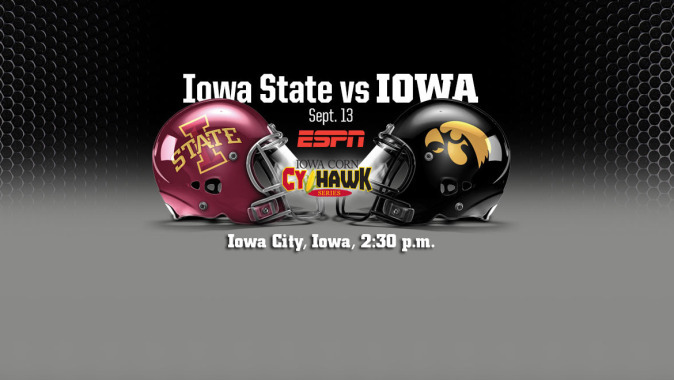 Sept. 10, 2014
Editor's Note: The following first appeared in the University of Iowa's Hawk Talk Daily, an e-newsletter that offers a daily look at the Iowa Hawkeyes, delivered free each morning to thousands of fans of the Hawkeyes worldwide. To receive daily news from the Iowa Hawkeyes, sign up HERE.
By JAMES ALLAN
hawkeyesports.com
IOWA CITY, Iowa — University of Iowa senior linebacker Quinton Alston says there aren't any funny stories surrounding the Iowa-Iowa State matchup because plain and simple, it's "Beat State" week inside the Hayden Fry Football Complex.
"It doesn't take long to get used to the rivalry and not like them," said Alston, who will be playing in his fourth installment of the Iowa Corn Cy-Hawk Series on Saturday inside Kinnick Stadium. "There are no secrets here."
Alston says there isn't a game on the Iowa schedule that compares to this rivalry. From the pregame hype to the fan interaction to the music being blasted throughout the football complex.
"In the complex, they start playing the (Iowa State) fight song to make you more angry," he said. "They play it in the locker room, weight room… everywhere. You get tired of seeing Iowa State really quickly around here, and when you get to the game Saturday everything is let loose."
Iowa leads the all-time series over the Cyclones, 40-21, which includes a 23-13 advantage in games played in Iowa City. The Hawkeyes have won 4-of-6, 5-of-8, and 7-of-11 meetings in the series, which includes a 27-21 victory in Ames last season. Iowa State won the last meeting in Kinnick Stadium, 9-6, in 2012.
Senior Kevonte Martin-Manley didn't understand the rivalry when he arrived at the UI from Michigan in 2010. Now he knows the game is personal.
"Those guys want their bragging rights; we want our bragging rights," he said. "We have to go out and make plays, play hard, and come out with a win.
"(When I got here) I was told it is going to be a hard fought game. When I was younger, I didn't understand it, but now I do. You can tell it is amplified when you get on the field. It's a hard fought battle, just like it's going to be this weekend."
The last three games in the series have been decided by six points or less.
"This rivalry has been good every year I have been here," said junior quarterback Jake Rudock. "They're going to be ready to go, we'll be ready to go, and it's going to be loud. The fans get into it."
Rudock believes the passion shown for the rivalry is a testament to both team's fan bases.
"It means we have great fans in Iowa across the state, whether it's for Iowa or Iowa State," he said. "The fans here are passionate about football and love these two teams."
Even though it's a "different" game week, Alston says when the teams ultimately take the field it will be business as usual.
"It's a big game in the state, but we're going to go out there and prepare," he said. "We're not going to be blinded by who we're playing this week. We're going to go out there and play them like any other team."
Saturday's game will kick off at 2:35 p.m. (CT), and it will be televised on ESPN with Sean McDonough, Chris Speilman, and Todd McShay on the call. The game is sold out.