Box Score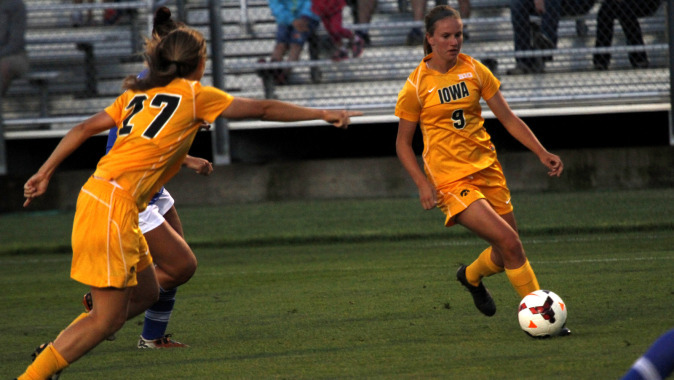 Sept. 20, 2014
MINNEAPOLIS — It was another day and another shutout for the University of Iowa women's soccer team. The Hawkeyes picked up their fourth-straight shutout with a 1-0 victory over Big Ten rival Minnesota on Saturday night at Elizabeth Lyle Robbie Stadium in Minneapolis. With the win, Iowa improves to 3-0 in Big Ten play, marking its best league start in program history.
Minnesota outshot the Hawkeyes, 22-9, for the game and limited the Hawkeyes to just three shots in the first half, but that proved to mean very little in the end.
Iowa's lone goal came in the 33rd minute when sophomore Amanda Lulek sent in a header past Minnesota goalkeeper Tarah Hobbs after fellow sophomore Bri Toelle secured the loose ball at the top of the box. The goal was the first goal of Lulek's career, and the assist was Toelle's fourth this season.
In desperate need of a goal, Minnesota went on the offensive firing 15 shots in the second half, but none found the back of the net.
Junior Hannah Clark tallied five saves in her fourth consecutive shutout, running her scoreless streak to 363:13. The shutout pushes Clark's career total to 15, tying her with former Hawkeye Emily Moran for the most in program history.
The victory is Iowa's first in Minneapolis since 2007 and the fourth victory over the Gophers in school history.
The Hawkeyes (8-1-0, 3-0-0) return to Iowa City for a home contest against Big Ten newcomer Maryland (3-3-1, 1-1-0) on Thursday, Sept. 25. The matchup is set to begin at 2:30 p.m. (CT) and will be televised live on BTN.