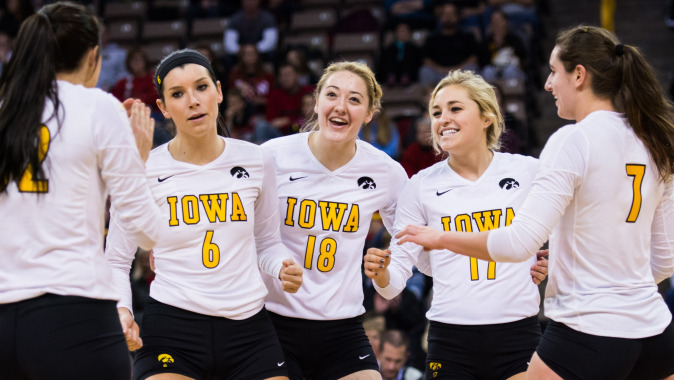 Sept. 20, 2014
Editor's Note: The following first appeared in the University of Iowa's Hawk Talk Daily, an e-newsletter that offers a daily look at the Iowa Hawkeyes, delivered free each morning to thousands of fans of the Hawkeyes worldwide.
By JIL PRICE
hawkeyesports.com
IOWA CITY, Iowa — The Iowa Corn Cy-Hawk Series has been engrained in the hearts of six University of Iowa volleyball student-athletes from a young age. Iowa natives — Lauren Brobst, Danielle Cabel, Alyssa Klostermann, Kari Mueller, Alli O'Deen, and Kaylee Smith — all grew up rooting for the Hawkeyes.
Smith, whose mother Lana played volleyball for Iowa, remembers having competitions as a young girl in elementary school and attending the matches. Now she relishes her opportunity to be a part of it.
"It was a huge thing growing up," Smith said. "In elementary school we always had little bets. I had a teacher put out two jars, one for Iowa and one for Iowa State, and everyone put their vote in one of the jars. Whatever team won, got a piece of candy or a prize.
"Having the opportunity to be a part of the rivalry as a volleyball player is special to me. I've always gone to the Iowa-Iowa State volleyball match growing up with my family, so it means a lot to me to be playing in it this year. I want to beat the Cyclones so bad."
Mueller and O'Deen — two Iowa City natives — shared the family experience as well. Mueller's sister, Signe, and O'Deen's mother, Amy, also wore an Iowa volleyball uniform.
"I've felt this rivalry since I was a little girl with my mom playing here as well as my dad," O'Deen said. "I know what it feels like to play Iowa State, and it all comes down to pride. You're always going to get an exciting match out of it because both teams are going to come out and give it all they've got."
"Growing up a Hawkeye you learn that the Iowa-Iowa State matchup is the big game for every team," Mueller said. "It's exciting to know that we have the opportunity to come in and take over the state with a win. There's nothing greater than knowing and proving that Iowa is the Hawkeye state."
Brobst's story is slightly different.
"Both of my parents went to Iowa State, but we all grew up Iowa fans," Brobst said. "Whenever Iowa and Iowa State were playing, there was never a choice on which team we were going to root for. It was always Iowa, even though they went there."
UI head coach Bond Shymansky also grew up around the rivalry. He hopes to see the stands packed with Black and Gold when the rivalry resumes Saturday at 4 p.m. (CT) in Ames.
"I love the rivalry," Shymansky said. "I'm a Hawkeye, a graduate of Iowa, and I grew up in Iowa City, so I know what it's all about. Any time you can support the Hawkeyes against the Cyclones you should be there. We're counting on Hawkeye nation to show up in Ames, cheer us on, and wear Black and Gold."