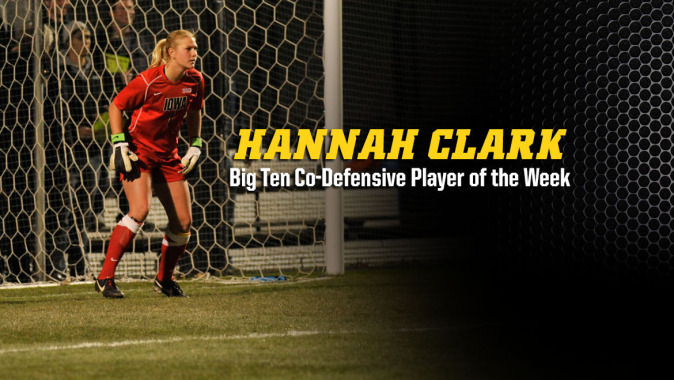 Sept. 22, 2014
IOWA CITY, Iowa — University of Iowa junior goalkeeper Hannah Clark has been named the Big Ten Co-Defensive Player of the Week, it was announced Monday by the league office. The honor is the third of Clark's career.
The Fort Collins, Colorado, native earned the distinction after leading the Hawkeyes to a 1-0 shutout victory at Minnesota on Sept. 20. Clark took on a barrage of Golden Gopher shots — 22 for the game — and finished with five saves en route to her fourth-straight shutout.
The victory improved Iowa's record to 8-1-0 overall and 3-0-0 in Big Ten play, which is the best conference start for the Hawkeyes in program history.
Clark, who is riding a scoreless streak of 363:13 minutes, now has 15 career shutouts, tying her with former Hawkeye Emily Moran for the school record.
Clark was previously named the Big Ten Defensive Player of the Week on Sept. 3, 2013, and the Co-Defensive Player of the Week on Oct. 1, 2012, as a freshman.
Iowa returns to action Thursday, hosting Maryland at 2:30 p.m. (CT) at the Iowa Soccer Complex. The game will be televised live on BTN.