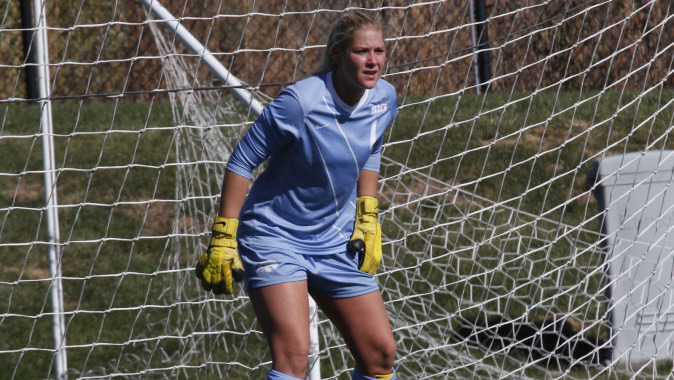 Sept. 25, 2014
Editor's Note: The following first appeared in the University of Iowa's Hawk Talk Daily, an e-newsletter that offers a daily look at the Iowa Hawkeyes, delivered free each morning to thousands of fans of the Hawkeyes worldwide. To receive daily news from the Iowa Hawkeyes, sign up HERE.
By JAMES ALLAN
hawkeyesports.com
IOWA CITY, Iowa — When University of Iowa junior Hannah Clark earned her first start of the season in the team's fifth game, she took the opportunity and ran with it.
"If you get a starting position, you want to keep it," said Clark, a goalkeeper from Fort Collins, Colorado. "I have been working hard, and we have been pushing each other in practice."
After starting all 23 games in goal for the Hawkeyes in 2013, Clark found herself in a preseason battle with senior Kiley Beck and freshman Tina Cardamone. Beck earned the early-season edge, starting the first five games, and leading the team to a 4-1 record with three shutouts.
Unaccustomed to being on the sidelines, Clark kept her head up and continued working.
"We were all working hard in practice, making each other improve," said Clark. "It's a good competitive spirit, but it's good to work my way back into the starting lineup."
Clark was listed among Iowa's starting 11 for the first time Sept. 7 when Iowa traveled to her hometown to face Colorado State, which ended in a 4-0 Hawkeye win.
The shutout victory proved to be the beginning of an impressive streak. Clark followed with a 270-minute scoreless stretch in three Big Ten victories over Illinois (2-0), Northwestern (1-0), and at Minnesota (1-0).
| | |
| --- | --- |
| | "The shutout streak isn't about me or the defense. It's the whole team working together to keep the ball out of the net, while also pushing forward to try and score." |
It is the second stretch of Clark's career where she has enjoyed a streak of four-straight shutouts, and she credits the result to that of a total team effort.
"The shutout streak isn't about me or the defense," said Clark. "It's the whole team working together to keep the ball out of the net, while also pushing forward to try and score."
During her current 363:13 minute shutout streak, Clark has made 12 saves, which includes a five-save effort in a 1-0 triumph at Minnesota. She was peppered with 22 shots over 90 minutes, including 15 in the second half.
When faced with an offensive onslaught like she faced against the Gophers, Clark says it's important to trust herself and her teammates.
"It is about staying mentally and physically strong," said Clark, who was named the Big Ten Co-Defensive Player of the Week for the third time in her career on Sept. 22. "If opponents are getting that many shots off, you need to be able to stop them, trust your defense, and have them step in front of the ball when they can. Everybody needs to work together."
The Hawkeyes have excelled collectively during the first half of the schedule, compiling an 8-1-0 record, which includes a 3-0-0 start in Big Ten Conference action — the best league start in program history. Iowa has also climbed to No. 13 — a program-best ranking — in the Soccer America poll.
For the results to continue this weekend with Big Ten newcomers Maryland and No. 17 Rutgers coming to Iowa City, Clark says the Hawkeyes need to be ready to compete.
"We need to show up and play hard," she said. "It's all about coming out strong, defending, and playing well up top."
Thursday's game against Maryland will begin at 2:30 p.m. (CT) at the Iowa Soccer Complex, and it will be televised live on BTN with Lisa Byington and Danielle Slaton on the call.