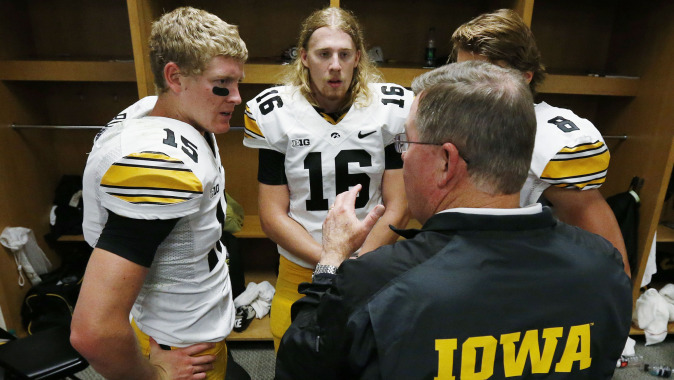 Sept. 26, 2014
Editor's Note: The following first appeared in the University of Iowa's Hawk Talk Daily, an e-newsletter that offers a daily look at the Iowa Hawkeyes, delivered free each morning to thousands of fans of the Hawkeyes worldwide.
By CHRIS BREWER
hawkeyesports.com
IOWA CITY, Iowa — Whether under center or on the headset, those inside the University of Iowa football program expect two quarterbacks to make an impact when the Hawkeyes visit Purdue on Saturday.
Junior Jake Rudock has started 17 consecutive games since making his UI debut in the 2013 season opener, but he was injured at Pittsburgh last week and did return after halftime.
He was replaced by sophomore C.J. Beathard, who led Iowa to three consecutive scoring drives, including a 13-play, 52-yard march in the fourth quarter that put Iowa ahead for the first and final time.
Beathard's final line included 98 yards passing on 7-of-8 attempts. He engineered an offense that scored 17 second-half points, and he did it using seven receivers, Mark Weisman's legs, Marshall Koehn's foot, and Rudock's support.
"Jake was very positive and encouraging when I came off the field," said Beathard. "He would tell me what (UI offensive coordinator Greg) Davis was saying on the headset. He would tell me what we're thinking here, or what we're thinking there. He wants to win just as bad as I do."
Rudock doesn't just want to win, he knows how to win. He won eight games in his first season under center, increasing Iowa's victory total by four games from the previous year, and in two of those games he erased a fourth-quarter deficit.
That leadership — whether communicated from the huddle, headset, or sideline — had his teammates' attention last week.
"When a guy goes out, and when a true leader goes out, they help the team by staying on the sideline trying to keep spirits up and letting guys know what they can do to improve if they make a mistake," said senior right tackle Andrew Donnal. "They stay positive for the guys, and that's exactly what (Rudock) did on the sideline."
Senior wide receiver Kevonte Martin-Manley said the quarterback dialogue is a two-way exchange of ideas, and that both Beathard and Rudock influence the offense whether they're in the game or not.
"Both of the quarterbacks communicate," said Martin-Manley. "When Jake is in the game C.J. is talking to him, or if C.J. is in the game Jake will talk to him. They're both very into it. If one is not on the field physically, he is still there mentally."
UI head coach Kirk Ferentz says the quarterbacks have their differences — personalities, throwing styles, leadership styles — but he says "that's the neat thing about football."
"You've got a lot of diverse backgrounds, personalities, ages, all that stuff," said Ferentz. "But (Beathard and Rudock) share a common bond in terms of they're here to help the team be a better football team."
Ferentz added that both quarterbacks are great teammates, and no matter who takes the field Saturday, the offense is in good hands.
"I think I'm safe in saying our players have total confidence, just like the coaches, in both quarterbacks, and that's a good thing," said Ferentz. "But they've earned it. They've worked hard and played tough."
It remains to be seen which quarterback is the first to take the field Saturday. It's possible they share the ball, it's absolute they share the same goal.
"We're here for one reason," said Beathard, "and that's to win games."