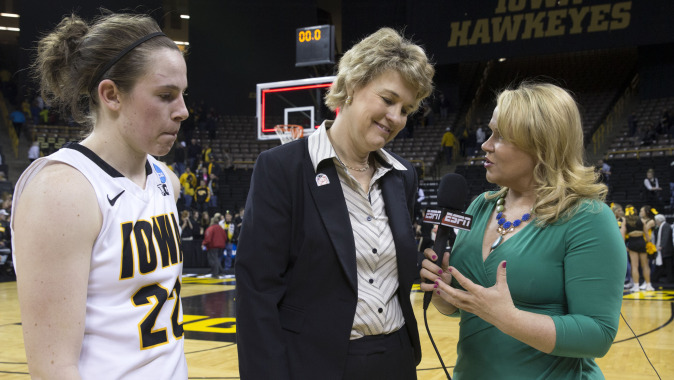 Sept. 29, 2014
IOWA CITY, Iowa — The Big Ten Conference and the University of Iowa announced today television plans and start times for the 2014-15 women's basketball season.
Seventeen Iowa games will appear on BTN or digitally on BTN Plus, and two additional regular season contests will be televised by ESPN2.
All 18 of Iowa's league games can be seen on one of the BTN or ESPN platforms, and the Hawkeyes' home nonconference contest against Iowa State on Dec. 11 will be televised by BTN at 6 p.m. (CT). Other home games set for BTN include Purdue (Jan. 11, TBA), Michigan (Jan. 22, 8 p.m.), and Nebraska (Jan. 26, 8 p.m.).
Iowa will travel to Rutgers to face former UI head coach C. Vivian Stringer and the Scarlet Knights in its conference road opener on Jan. 4. The contest will be televised live by BTN at 11 a.m. Other away games set for BTN include Nebraska (Feb. 12, 8 p.m.), and Minnesota (Feb. 17, 8 p.m.).
The Hawkeyes will head to Maryland for the lone regular season meeting Feb. 1. The contest is scheduled for 3 p.m. on ESPN2. Iowa's road game at Michigan State on Jan. 18 (2 p.m.) is also set for ESPN2.
The Big Ten Women's Basketball Tournament will be held at Sears Centre Arena in Hoffman Estates, Illinois, and will feature a five-day format for the first time in conference history. All 14 teams will advance to the tournament, with two first-round games slated for Wednesday, March 4 on BTN Plus. BTN will carry the next 10 games of the tournament, while the championship game will be televised by ESPN at 6 p.m. (CT) on Sunday, March 8.
Additional start times and television information will be released at a later date.
Iowa returns 10 letterwinners and four starters from a team that went 27-9 in 2014 and made its Big Ten-best seventh-consecutive NCAA Tournament appearance. The Hawkeyes open the regular season on Nov. 14, hosting USC Upstate at Carver-Hawkeye Arena.
Tickets are available by visiting the ticket office at Carver-Hawkeye Arena, calling 1-800-IA-HAWKS, or online at hawkeyesports.com.