Women's Basketball Gameday
Gameday Info
Thanks to Iowa Corn, fans have access to FREE photos and gifs from Cy-Hawk Series events! Access the highlights by entering your seat location after the end of the game.
Download the Hawkeye Sports App to manage mobile tickets and participate in the light show during pregame introductions.
Clear bag policy (see Allowed Items in Arena Information below )
Alcohol sales at all games
Buy Tickets
Doors Open
The north, south, east and west entrances will open 60 minutes prior to tipoff.
Mobile Tickets
Mobile tickets will be scanned on fans' smartphones to gain entry into Carver-Hawkeye Arena for the game. Download the Hawkeye Sports App for the simplest way to order and access tickets. Printed PDF tickets will not be accepted on game day. Read more about how to purchase, download, and access mobile tickets.
Student Tickets
University of Iowa students may claim one (1) free ticket per game via their student ticket account. Students may enter the arena through any of the four entrances.
Will Call
General Will Call ticket window and Team Pass Gates are located at the Athletics Ticket Office inside the north entrance.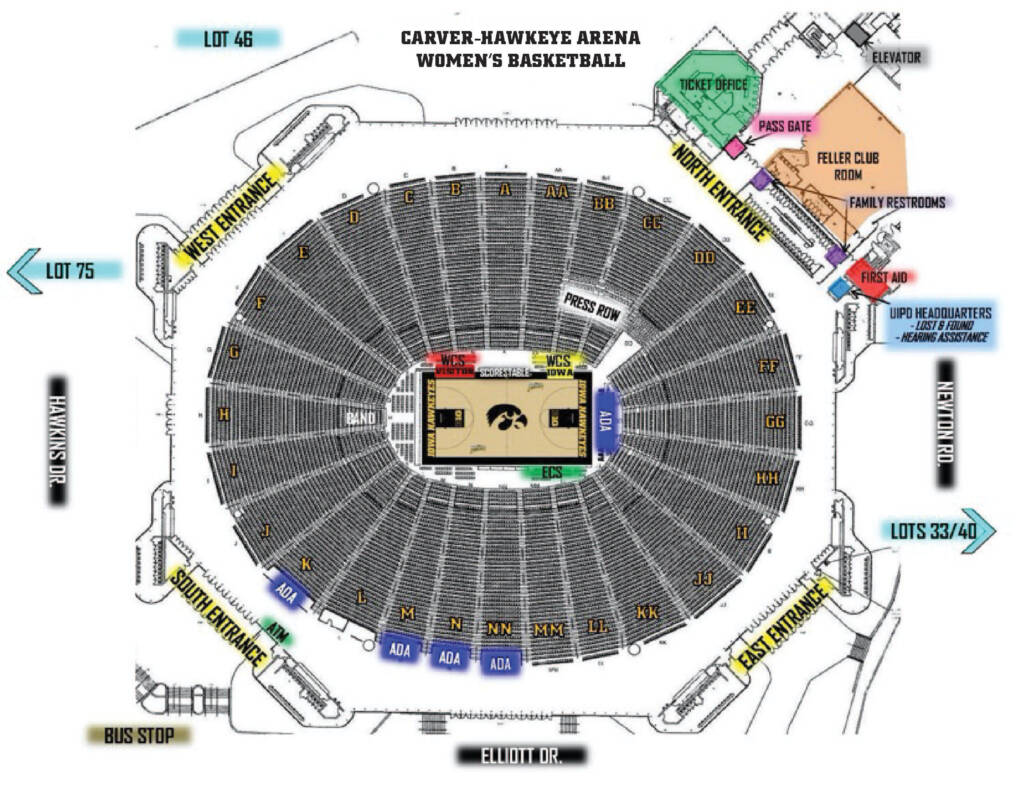 Carver-Hawkeye Arena Information
Parking
Public Parking
Day of game parking will be available in Lots 43, 65, and 75.
ADA Parking
Located in the west end of Lot 40, across the street from the south entrance of Carver-Hawkeye Arena. A state-issued ADA parking placard or license plate is required for entry.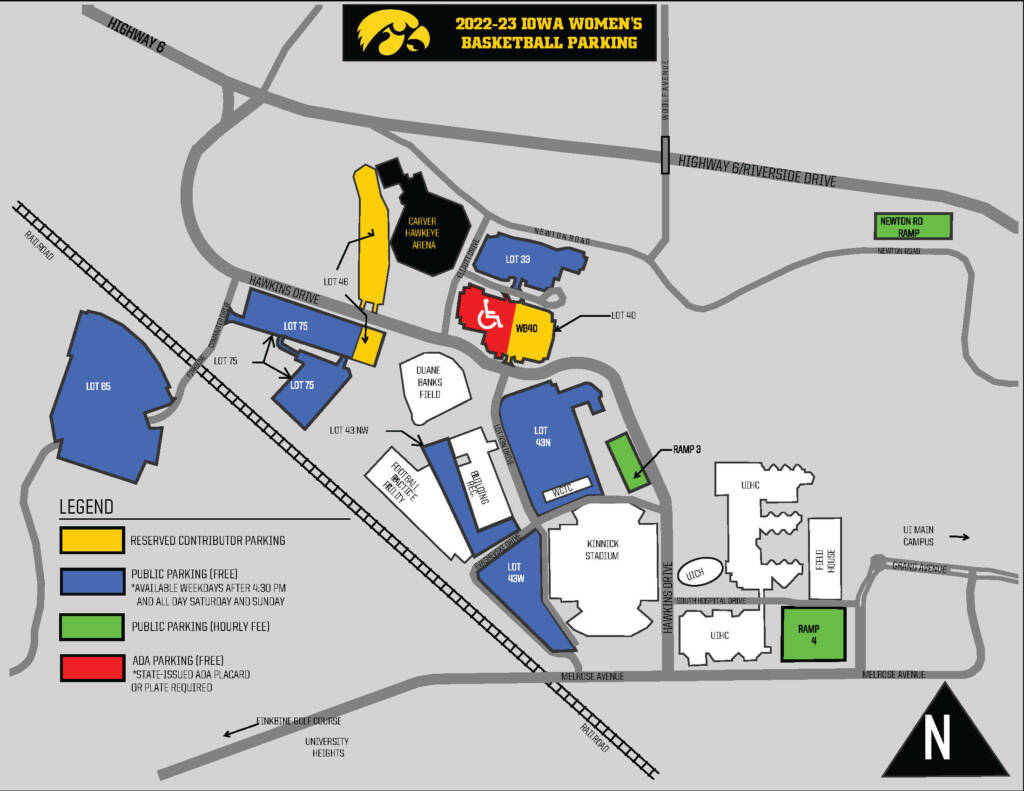 *Please park in designated parking stalls for all events, not including drive lanes, bus shelters and grass/snowbanks.
Game Promotions/Events
| Game | Promotion |
| --- | --- |
| Sunday, November 20 vs. Belmont | Junior Hawk Club Day |
| Thursday, December 1 vs. NC State | Black & Gold Stripe Game |
| Wednesday, December 7 vs. Iowa State | Iowa Corn Cy-Hawk Series |
| Saturday, December 10 vs. Minnesota | Blackout Game |
| Sunday, December 18 vs. UNI | Girl Scout Game |
| Wednesday, December 21 vs. Dartmouth | Holiday Sweater Game |
| Thursday, December 29 vs. Purdue | Bluder's Bunch Appreciation Day |
| Wednesday, January 11 vs. Northwestern | Go Red for Women Game |
| Saturday, January 14 vs. Penn State | Celebrating 50 Years of Iowa Women's Athletics |
| Saturday, January 28 vs. Nebraska | Alumni Day |
| Thursday, February 2 vs. Maryland | National Women & Girls in Sport Day |
| Sunday, February 12 vs. Rutgers | Pink Game |
| Wednesday, February 15 vs Wisconsin | Gold Out Game |
| Sunday, February 26 vs Indiana | Senior Day |
FOLLOW HAWKEYE WOMEN'S BASKETBALL