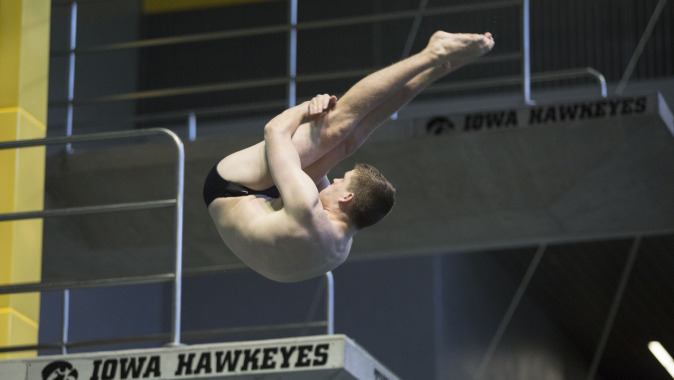 Oct. 3, 2014
IOWA CITY, Iowa — The University of Iowa men's swimming and diving team got a first, second, and fourth place finish on the 3-meter springboard to highlight the first day of the season-opening dual against Michigan on Friday night at the Campus Recreation and Wellness Center Pool.
Junior Addison Boschult won the competition, finishing with a personal-best score of 351.90 points, while sophomore Brandis Heffner was the runner-up, tallying a PR of 318.40 points. Freshman Matt Mauser finished fourth with 287.75 points.
"I was very pleased with their performance this early in the season," said UI diving coach Todd Waikel. "Both Addison and Brandis had PRs, and this early, given what we're doing and how we're doing it, it's great to see.
"We still have a lot of room for improvements, but I am very pleased overall."
In the pool, the Hawkeyes' highest finish came in the opening event when the quartet of senior Grant Betulius, sophomore Roman Trussov, freshman Jerzy Twarowski, and redshirt junior Brian Donatelli finished as runner-up in the 400-medley relay in 3:18.88.
Iowa posted third-place finishes in the 200-free relay, 400-IM relay, 100-free relay, and 100-medley relay.
Donatelli, junior Charles Holliday, and sophomores Brandon Farnum and Jackson Halsmer finished in 1:27.27 in the 200-free relay. Trussov, junior Matthew Boyd, senior Chris Freeman, and Twarowski posted a time of 3:28.79 in the 400-IM relay.
Junior Jackson Allen, Boyd, sophomore Luke Snow, and freshman R.J. Hemmingsen finished with a time of 37.91 seconds in the 100-free relay, and Betulius, Trussov, Hemmingsen, and Donatelli touched out in 41.25 seconds in the 100-medley relay.
Iowa also got a fourth-place showing from freshman Chris Dawson in the 1,000 free, where he finished with a time of 9:29.90.
"We've never done a format like this," said UI head coach Marc Long. "It was unique and cool because we had a 1,000 and the diving that were scored events and in between it was time to work off the rust.
"It has been awhile since we've raced short course for all these teams. We got faster as the meet went on, which is great. It was a lot of fun, but the team needs to recover tonight and get ready for a real meet tomorrow morning."
Through two events — only the 1,000 and 3-meter springboard were scored — Iowa trails Michigan, 20-18, heading into Saturday's action, which begins at 10 a.m. and will feature a traditional dual format..