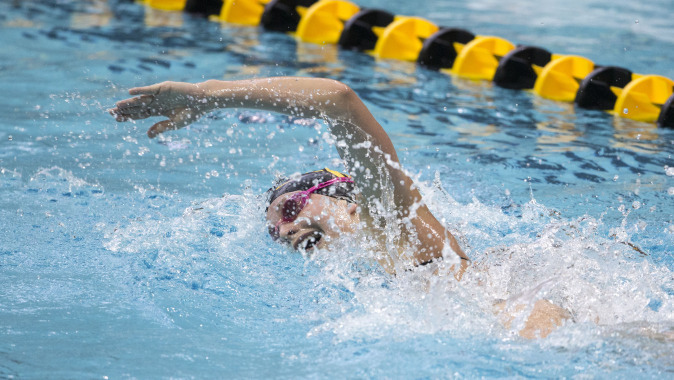 Oct. 3, 2014
IOWA CITY, Iowa — The University of Iowa women's swimming and diving team won a pair of non-traditional relays — 400-IM relay and 100-medley relay — on the opening day of the season-opening double dual against Michigan and Nebraska at the Campus Recreation and Wellness Center Pool.
"We've never done a format like this," said UI head coach Marc Long. "It was unique and cool because we had a 1,000-free and the diving that were scored events and in between it was time to work off the rust.
"It has been awhile since we've raced short course for all these teams. We got faster as the meet went on, which is great. It was a lot of fun, but now the team needs to recover and get ready for a real meet tomorrow morning."
The quartet of sophomore Emma Sougstad, freshmen Meghan Lavelle and Teresa Lehnertz, and junior Allie Orvis swam to a winning time of 3:54.09 in the 400-IM relay. The Hawkeyes posted their second win in the 100-medley relay when Lavelle, Sougstad, and juniors Ashley Horodyski and Olivia Kabacinski posted a time of 48.12 seconds.
The Hawkeyes also got runner-up finishes in the 200-free relay and individually in the 1,000 free. Kabacinski, Sougstad, Orvis, and Lehnertz posted a time of 1:35.79 in the 200-free relay, while senior Becky Stoughton finished second in the 1,000 free in 9:49.57.
Iowa also tallied a third-place finish in the 400-medley relay when Lavelle, Sougstad, freshman Summer Campbell, and Kabacinksi touched in 3:47.11.
In the diving well, two Hawkeyes got a pair of top-five finishes in the 1-meter springboard. Iowa got a fourth-place finish from redshirt senior Joelle Christy (266.05 points) and a fifth-place showing from redshirt senior Lauren Kelba (262.45 points).
"I was a little disappointed in their performance," said UI diving coach Todd Waikel. "They didn't do some of the things I am seeing them do in practice, but the thing is, I am seeing them do it in practice. They just didn't perform today.
"We have a lot of work ahead of us, and I am encouraged because they're doing great stuff on a daily basis."
Only two events — 1,000 free and 1-meter springboard — were scored for dual purposes. Iowa leads Nebraska, 25-13, and trails Michigan, 28-10, following Friday's competition.
The Hawkeyes return to action Saturday morning at 10 a.m. (CT) competing in a traditional dual format.