Box Score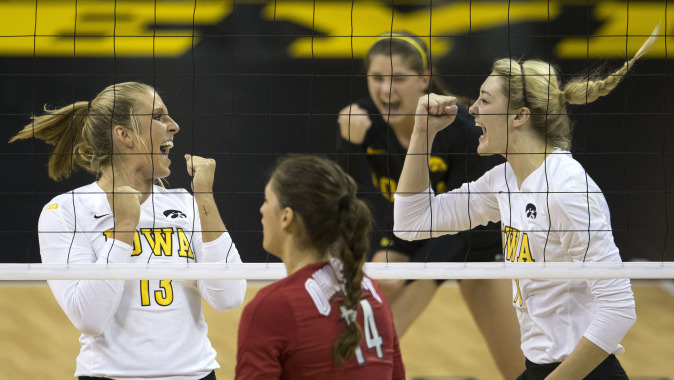 Oct. 3, 2014
Box Score

| Final Stats | Photo Gallery

IOWA CITY, Iowa — The University of Iowa volleyball team fell in straight sets to Ohio State (10-5, 1-2) on Mediacom Court in Carver-Hawkeye Arena on Friday evening. Errors plagued the Hawkeyes (8-6, 0-3) throughout the match, as they posted an attack percentage of .099 compared to the Buckeyes' .261.
Iowa switched up its traditional lineup in the match. Kaylee Smith and Danielle Cabel earned the first starts of their Hawkeye careers, while Kari Mueller earned her first start of the season.
"I thought we fought a lot better tonight against Ohio State and our new line up did a good job of gelling quickly," head coach Bond Shymansky said. "We eventually started finding a way to slow Ohio State down, picking up our own offensive thing as the match wore on, and there was a lot of contribution from a lot of different players.
"Optimism should be the word of the day for our program and us being optimistic about the development that is happening inside of the program, being optimistic about the opportunity each individual player has to continue to contribute, and optimism about how the community is really embracing our team and supporting us in really significant ways. I thought we had some good individual performances again tonight, but we're looking for a full team performance to win in the Big Ten and we're confident that it will come sooner than later."
After five ties and three lead changes early in set one, the Buckeyes used a four-point run to pull ahead. Ohio State did not surrender its advantage, closing out the opening set, 25-19. Lauren Brobst provided nearly all of the offense for the Hawkeyes, compiling six of her nine total kills in the match in the set. She also hit at a clip of .667.
The Buckeyes kept the momentum in the second set and never trailed en route to their 25-17 win. Ohio State led by as much as 10 and withstood a late Hawkeye push fueled by a Julianne Blomberg serving run to take a 2-0 lead into the break.
Both teams grappled through 15 ties and seven lead changes for the third set. With the score knotted at 20, Ohio State used three Iowa miscues to pull ahead. The Buckeyes completed the 3-0 sweep with a 25-22 win.
Brobst led the offense with nine kills, while Alex Lovell and Jess Janota entered in the latter parts of the match to hit .667 and contribute six and five kills, respectively. Smith dished out a team-high 26 assists and Michelle Fugarino posted eight digs to lead the back line.
"I thought Lauren Brobst did a great job of being a terminator there for us, both early in the match and during late points when we really needed a side out," Shymansky said. "Alex Lovell did a great job of coming off of the bench and showing what she can contribute to the team and that senior leadership was out there. Jess Janota did the same. She came off of the bench and provided a spark. She was hitting the ball hard and we need that type of terminal mentality from all of our hitters."
The Hawkeyes are back in action tomorrow against No. 3-ranked Penn State. Doors open at 6 p.m. (CT) and the first 200 fans will receive a complimentary Iowa volleyball tote bag. First serve is slated for 7 p.m.
| | | | |
| --- | --- | --- | --- |
| Iowa vs. Ohio State | 1st | 2nd | 3rd |
| Iowa (8-6, 0-3) | 19 | 17 | 22 |
| Ohio State (10-5, 1-2) | 25 | 25 | 25 |
Statistical Leaders
Kills: Brobst (IOWA) 9 | Campbell (OSU) 12
Assists: Smith (IOWA) 26 | Sherwin (OSU) 36
Digs: Fugarino (IOWA) 8 | Campbell (OSU) 14