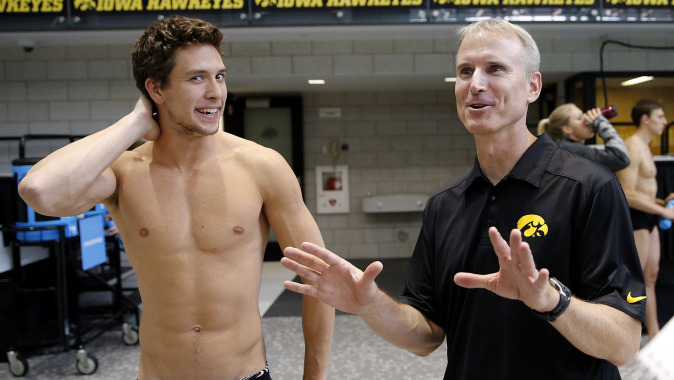 Oct. 4, 2014
Editor's Note: The following first appeared in the University of Iowa's Hawk Talk Daily, an e-newsletter that offers a daily look at the Iowa Hawkeyes, delivered free each morning to thousands of fans of the Hawkeyes worldwide. To receive daily news from the Iowa Hawkeyes, sign up HERE.
By JAMES ALLAN
hawkeyesports.com
IOWA CITY, Iowa — University of Iowa junior Brian Donatelli didn't realize what he had with the UI men's swimming and diving team until it was taken from him.
In late August, 2013, Donatelli suffered a season-ending ACL injury during a game of two-hand touch football. He had his initial surgery two weeks later, but developed staff infection, forcing him to have three more surgeries during a 10-day hospitalization.
The medical issues forced Donatelli to drop out of first semester classes at the UI and move back to his hometown of LaGrange, Illinois. In December, 2013, he had his fifth and final surgery.
"It was the low point of my life…" said Donatelli. "…but it gave me a chance to reflect to find out what is important in my life."
Through the rehabilitation process, the prospect of returning to the UI men's swimming and diving team provided Donatelli motivation.
"One thing I kept thinking about were my teammates and how amazing this experience is and about being a part of this team," he said. "It made me appreciate it more."
| | |
| --- | --- |
| | "One thing I kept thinking about were my teammates and how amazing this experience is and about being a part of this team. It made me appreciate it more." |
Donatelli returned to the pool for his first competition in August at the 2014 Phillips 66 National Championships, swimming in the 400-meter medley relay with senior Grant Betulius, junior Mike Nelson, and sophomore Kyle Patnode. The quartet finished 14th with a time of 3:51.45.
"It was weird (to get back into competitive racing)," said Donatelli. "It gave me a different perspective on the sport. When I stepped up to race, I remembered what I went through. It gave me a new incentive on everything."
Returning for his redshirt junior season, Donatelli is one of the team captains, and he is expected to be one of the team's top sprinters.
"He was our top sprinter (before the injury) and in the NCAA a lot of points are in sprint events," said UI head coach Marc Long. "He's getting back to full strength, and it's a big getting him back as an upperclassmen. When they're out of the pool, you're not just losing points, you're losing leadership."
As a sophomore, Donatelli led the team in the 50-yard freestyle (20.23) and was a part of the team-leading 200 and 400-yard freestyle relays. He also swam collegiate best times at the 2013 Big Ten Championships in the 100 and 200-free.
Come February and March — when it's the championship season — Long believes Donatelli will be back as a threat.
"He'll be better than ever down the road," said Long. "He has been working hard to get back at it, and this year is going to be a year of development for him."
With the Hawkeyes hosting the 2014 NCAA Men's Swimming and Diving Championships in March, Donatelli says things are falling into place for what he hopes is a special year.
"It's exciting and one of our goals is to get as many people as we can (to the NCAAs) — relays and individuals — and scoring," he said. "Hosting the NCAAs changes the atmosphere."
The Hawkeyes return to the pool at 10 a.m. (CT) Saturday, hosting Michigan at the Campus Recreation and Wellness Center Pool.