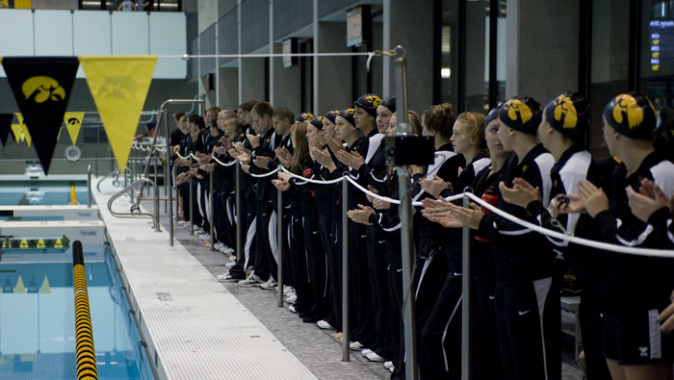 Oct. 11, 2014
IOWA CITY, Iowa — The University of Iowa men's and women's swimming and diving teams took part in the program's annual intrasquad meet Saturday at the Campus Recreation and Wellness Center Pool. The Black squad posted a 86.5-85.5 triumph over the Gold squad.
The Black squad jumped out to a 14-0 lead collecting top finishes in the men's and women's 200-medley relays. The quartet of freshmen Rowan Hauber and Carly O'Brien, sophomore Emma Sougstad, and junior Ashley Horodyski swam to a first-place time of 1:46.02.
On the men's side, sophomore Kyle Patnode, juniors Michael Nelson and Allen Jackson, and senior Grant Betulius swam to a combined 1:31.39.
UI junior Olivia Kabacinski put the Gold team on the board after swimming to a 1:52.04 in the women's 200-free. UI freshmen Nikol Lagodzinska came in second-place with a 1:54.89.
Freshman Thomas Rathbun narrowed the Black team's lead, 18-14, with a first-place finish in the men's 200-free, swimming to a 1:40.55. Sougstad added to the Black team, taking first place finishes with season-best times in the 200-IM (2:06.77) and 100-breaststroke (1:03.04).
A pair of freshmen — Summer Campbell and Tereysa Lehnertz — took the top-two finishes in the 100-fly, pulling the Gold team to within three, 49-46. Both Campbell (57.12) and Lehnertz (58.20) swam season-best times.
The Black squad trailed 85.5 – 79.5 going in the final event — the men's 200-free relay. The quartet of sophomore Joseph Halsmer, juniors Charles Holliday and Roman Trussov, and senior Grant Betulius took the top finish, swimming to a 1:23.14. The win gave the Black squad six points to retake the lead and seal the victory.
The Hawkeyes return to action Oct. 17, in East Lansing, Michigan, squaring off with Michigan State at 3 p.m. (CT).