Oct. 12, 2014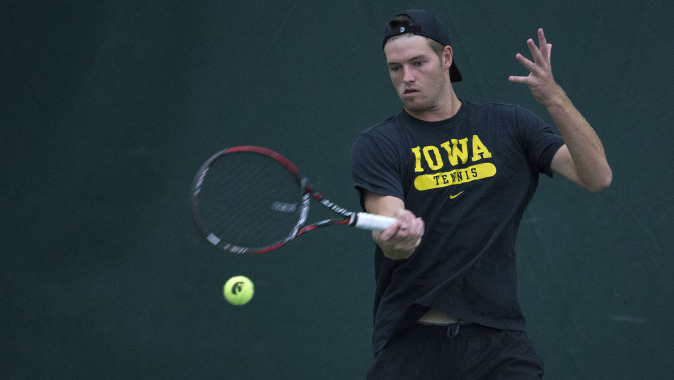 NORMAN, Okla. — Senior Matt Hagan was in action for the University of Iowa men's tennis team at the ITA Regional Tournament Sunday at the Headington Family Tennis Center. Hagan looked to improve on his impressive showing so far in the tournament.
The senior attempted to build off his two victories yesterday in facing Oklahoma State's Nicolai Ferrigano in the Round of 16 on Sunday. Hagan was able to take care of business adding to his win column claiming the match in straight sets (6-3, 6-4). The win set Hagan up with a tough match against the No. 4 seed Alen Salibasic of Drake in the main draw quarterfinals; the match went three sets as Hagan prevailed (7-6 (6), 6-7 (4), 6-3). The two big wins for Hagan, makes him the first Hawkeye to advance to the ITA Regional semifinals since 1999 when Tyler Cleveland won it all.
"Today was a great day for Matt and the Iowa men's tennis program. Matt is showing he can compete with the best players in the nation," said interim head coach Ross Wilson. "He handled his nerves well winning his quarterfinal match where he was able to get the only break of serve in the match."
Axel Alvarez will be Hagans' opponent in the semifinals on Monday. Alvarez is the No. 2 seed in the tournament and currently ranked third in the nation. This sets up to be a great test for the Hawkeye senior.
"Matt has a great opportunity to play the No. 3 player in college tennis on Monday. He could potentially qualify for the ITA National Indoors with another big victory," added Wilson.
Competition at the ITA Regionals ends on Monday at the Headington Family Tennis Center.
ITA REGIONAL TOURNAMENT
Sunday's results
Main Draw round of 16
Matt Hagan (UI) def. Nicolai Ferrigano (OSU): 6-3, 6-4
Main Draw quarterfinals
Matt Hagan (UI) def. Alen Salibasic (DU): 7-6 (6), 6-7 (4), 6-3