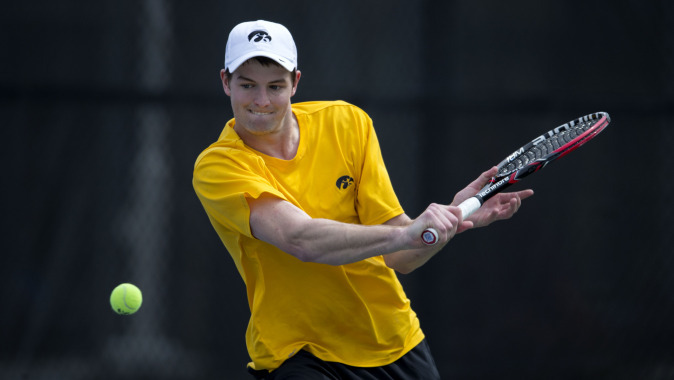 Oct. 13, 2014
NORMAN, Okla. — University of Iowa men's tennis senior Matt Hagan put up a valiant effort against the top-seed and No. 3 ranked player in the country Monday, but his run at the ITA Regional Tournament came to an end after a three-set battle.
Oklahoma's Alex Alvarez outlasted Hagan (5-7, 6-3, 6-4) in today's semifinal match. After winning two matches Saturday and two matches on Sunday, Hagan's run to the semifinals ended on Monday. The native of Omaha, Nebraska, became just the third Hawkeye to reach the semifinals at a regional and first since Tyler Cleveland in 1999. Cleveland won the tournament in 1999, while Bryan Crowley won the 1994 regional.
"He should be proud of his effort," said interim head coach Ross Wilson. "For him to come out and play three tough sets against the No. 3 ranked player in the country, and a guy who has played a lot of professional events, speaks to the hours of practice that he's put in over the last year."
Hagan said his confidence is at an all-time high right now.
"Whenever you can advance to the semifinals of a tournament of this caliber, and then push the No. 1 seed and one of the top players in the nation to three sets, it makes me believe that I can compete against some of the best players in the country," said Hagan.
Hagan said his mentality going into today's match didn't change from the previous two days of competition.
"My mindset today was to stay focused and work hard for every single point," Hagan said.
Hagan said the difference in his game this fall has been steady improvement and staying aggressive.
"I'm trying to hit big serves and then work my way to the net by hitting big forehands," said Hagan. "I've also worked on my footwork trying to get faster and execute better at the net."
"This is a big step for our program to prove to him that he could play with the best players in the country and also prove to his teammates that we're talented enough to play with the best players around the nation," added Wilson.
The Hawkeyes return to action, Oct. 31-Nov. 3, at the Big Ten Indoor Championships in Minneapolis.
ITA REGIONAL TOURNAMENT
Monday's results
Main Draw semifinals
#3 Alex Alvarez (OU) def. Matt Hagan (UI): 5-7, 6-3, 6-4