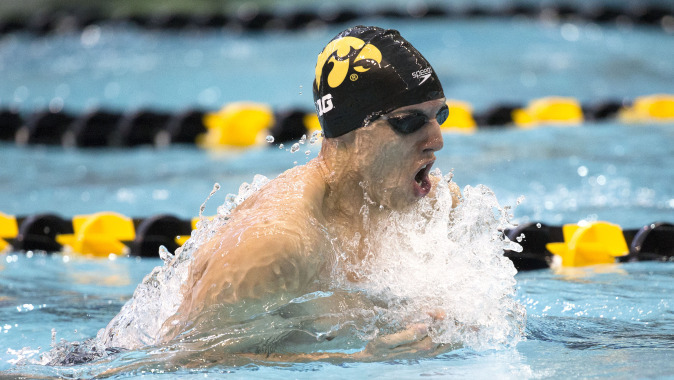 Oct. 17, 2014
EAST LANSING, Mich. — The University of Iowa men's swimming and diving team scored a 174-126 Big Ten win over Michigan State on Friday in East Lansing, Michigan. The Hawkeyes (1-1) recorded 11 first-place finishes.
"We had a lot of great things happening tonight," said UI head coach Marc Long. "We swam competitively in every event and overall did well on the road. Credit to Michigan State, they swam really well and gave us a good challenge. Anytime you can get a Big Ten win it's a good accomplishment and I'm really proud of the way we swam tonight."
The quartet of Grant Betulius, Roman Trussov, Jerzy Twarowski, and Brandon Farnum put Iowa on top with a first-place finish in the 200 medley relay swimming to a time of 1:30.96.
The foursome of Betulius, Trussov, Farnum, and Joseph Halsmer added to the Hawkeye lead following with a top finish in the 400 free relay. The group swam to a time of 3:04.44.
Trussov had a breakout meet collecting first-place finishes in the 100 breaststroke (55.28) and 200 breaststroke (2:01.65).
Betulius swam to a first-place finish in the 100 backstroke swimming to a time of 49.31, and a third-place finish in the 200 backstroke with a time of 1:51.07. Iowa took the top-three finishes in the 200 backstroke. Chris Freeman won the race swimming to a time of 1:49.40, and Andrew Parker swam to a second-place finish with a time of 1:50.41.
"The energy of the team tonight was awesome," said Betulius. "Michigan State was ready for us and brought the competition all night and we fought right back. We found some success and bright spots and we're able get a few wins."
Twarowski also swam to three first-place finishes; twice as a member of relay teams, as well as a first-place finish in the 100 butterfly with a time of 49.79.
In the diving well, the Hawkeyes were led by Addison Boschult and Brandis Heffner who each dove to second place finishes. Boschult claimed runner up in 3-meter competition diving to a score of 316.12. Heffner gathered a second-place finish in the 1-meter with a score of 302.85. UI freshman Matt Mauser finished fourth in 1-meter competition with a score of 264.29.
"Our divers really did fantastic tonight," said UI diving coach Todd Waikel. "I'm really pleased with how we competed and fought. In both events we were right there nearing the top finishers, Boschult and Heffner were just one and two points behind the 3-meter champion tonight and both dove really well. I saw some bright spots in our competitiveness and that's a good way to finish as we go back to training and prepare for Minnesota"
The Hawkeyes return to the pool Oct. 31 squaring off with Minnesota in Minneapolis Minnesota at 5 p.m. (CT).