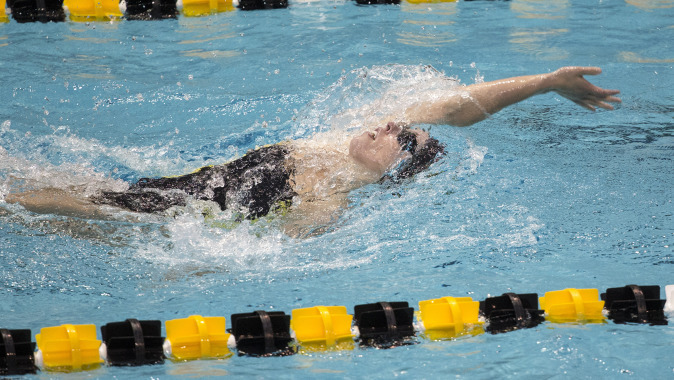 Oct. 17, 2014
"We had a lot of great things happening tonight," said UI head coach Marc Long. "We swam competitively in every event and overall did well on the road showing a lot of growth. Credit to Michigan State, they swam really well and gave us a good challenge. Anytime you can get a Big Ten win it's a good accomplishment and I'm really proud of the way we swam tonight."
The 200 medley relay quartet of Meghan Lavelle, Emma Sougstad, Ashley Horodyski, and Olivia Kabacinski were the first to put Iowa on the board swimming to a first place finish with a time of 1:44.00.
Kabacinski claimed four top-finishes on the night. The junior native of La Porte, Indiana, swam top times in the 200 free (1:52.19), 100 free (51.90), and as a member of the 400 free relay (3:27.67).
Sougstad closed the meet adding an additional pair of top-finishes; first in the 50 free (23.61) and once more as a member of the 400 free relay (3:27.67).
Seniors Becky Stoughton and Hillary Weigand finished with the top two times in the 1,000 free. Stoughton claimed first place with a time of 10:02.17. Weigand took runner up with a time of 10:21.99.
Stoughton also posted top times in the 500 free (4:59.05), and as a member of the 400 free relay (3:27.67).
UI freshmen Rowan Hauber and Meghan Lavelle claimed top finishes in the 100 backstroke. Hauber claimed first-place coming in at 56.37; less than a second ahead of Lavelle who finished runner up (56.57).
In the diving well the Hawkeyes claimed top finishes on the 1-meter from Joelle Christy and Lauren Kelba. Christy dove to a first-place finish with a score of 304.54. Kelba finished runner up diving to a score of 281.10. The two also placed in the top five in 3 meter competition. Christy finished runner up (302.40), and Kelba placed fourth (277.98).
"Our divers really did fantastic tonight," said UI diving coach Todd Waikel. "I'm really pleased with how we competed and fought. I thought we may have left some points out there that we could have taken advantage of but our competitive edge shined and our performance as a whole was outstanding. I saw some bright spots though and that's a good way to finish as we go back to training and prepare for Minnesota."
The Hawkeyes return to the pool Oct. 31 squaring off with Minnesota in Minneapolis, Minnesota, at 5 p.m. (CT).