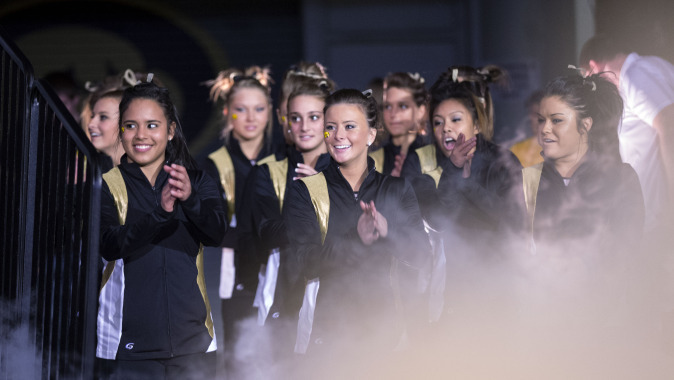 Oct. 20, 2014
IOWA CITY, Iowa — Head coach Larissa Libby and the University of Iowa women's gymnastics team announced its 2015 schedule Monday. The schedule features five home events and four appearances inside Carver-Hawkeye Arena. Iowa will face eight teams that finished in the top 25 of last year's GymInfo/Troester Collegiate Rankings.
The Hawkeyes will kick off the season with the annual Black and Gold Intrasquad on Dec. 6 in the UI Field House before beginning the regular season on the road at Libby's alma mater, Louisiana State, on Jan. 9. The Tigers took third place at the 2014 NCAA Super Six Finals.
Iowa returns home for three of its next five events, hosting Michigan State (Jan. 18), and Big Ten newcomer Maryland on Jan. 30. The Hawkeyes will host Illinois on Valentine's Day (Feb. 14).
The Hawkeyes — comprised of three seniors, three juniors, six sophomores, and seven freshmen — travel to Ohio State on Jan. 24 and Nebraska on Feb. 7.
Following five-straight conference duals, Iowa hits the road for two more competitions at Denver on Feb. 21 and UC Davis on Feb. 27. Iowa concludes its home slate against in-state foe Iowa State on March 6.
The Hawkeyes will travel to Minneapolis on March 14 for one of the conference's Big Five Meets. Iowa will face Michigan, Minnesota, Penn State and Rutgers, while Nebraska hosts the other with Illinois, Maryland, Michigan State, and Ohio State. The top three teams at each of the Big Five Meets will advance to the evening session of the Big Ten Championships the following week, set for March 21 in Ann Arbor, Michigan.
The Big Ten's regular-season champion, determined by win-loss record (including ties), will also be crowned on March 14. Each Big Ten team will compete in five separate dual meets against conference opponents and in one Big Five Meet against the other four teams, assuring every team competes against one another.
NCAA Regional competition begins April 4. The top two teams at each of the six regional sites will advance to the NCAA Championships, set for April 17-19 in Fort Worth, Texas.
Iowa has been selected for NCAA Regional Competition in six of the last seven seasons.