2022 HOME PROMOTIONS SCHEDULE
| | | |
| --- | --- | --- |
| Friday 1/27/2023 | Minnesota at Carver-Hawkeye Arena | 50 years of Iowa Women's Athletics |
| Saturday 2/11/2023 | Michigan State at Xtream Arena | Black out |
| Saturday 2/18/2023 | Rutgers at Carver-Hawkeye Arena | 70's night/Kid's night |
| Saturday 3/4/2023 | Iowa State. at Carver-Hawkeye Arena | Senior night/Cancer awareness night |
Meetday Info
Tickets
Youth Tickets (18 & Under): Free!
Single Meet Adult Tickets: $10
Season Adult Tickets: $30
Gymnastics B1G Championships tickets: Adult $20/Youth $10
Accessibility Statement
Individuals with disabilities are encouraged to attend all UI sponsored events. If you are a person with a disability who requires a reasonable accommodation in order to participate in this program, please contact the Athletic Ticket Office.
Doors Open
The north, south, east and west entrances will open 60 minutes prior to the start of the meet.
Mobile Tickets
In order to enhance fan service and flexibility, mobile tickets will replace printed tickets in 2021-22. Mobile tickets will be scanned on fans' smartphones to gain entry into Carver-Hawkeye Arena for the dual. Printed PDF tickets will not be accepted on meet day. Read more about how to purchase, download, and access mobile tickets.
Will Call
General Will Call ticket window and Team Pass Gates are located at the Athletics Ticket Office inside the north entrance.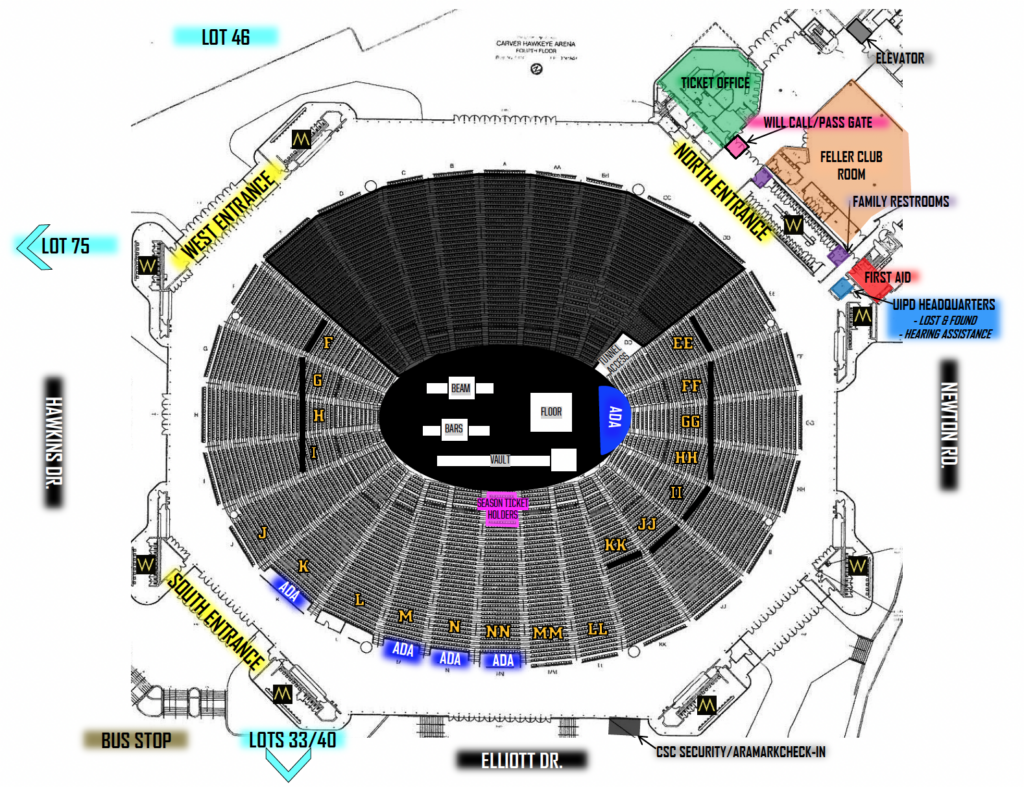 Carver-Hawkeye Arena Information
Parking
Public Parking: Public parking is available free of charge in Lots 46 and 75, both off Hawkins Drive.
ADA Parking: Located in the west end of Lot 40 (shown in red on parking map), across the street from the south entrance of Carver-Hawkeye Arena. A state-issued ADA parking placard or license plate is required for entry.
Public parking is also available at the applicable hourly rate ($1.20/hour) in Ramps 3 and 4, as well as the Newton Road Ramp. Free parking is available in the Hancher Auditorium Parking Lot. Complimentary Cambus shuttles from Hancher to Carver-Hawkeye Arena will begin 90 minutes prior to the start of the meet and run until one (1) hour following the conclusion of the meet.