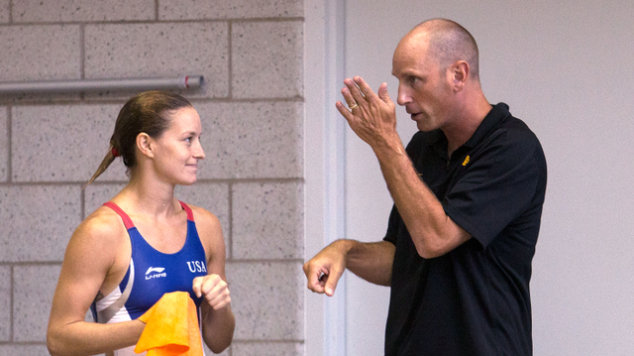 Oct. 21, 2014
"It is great for the program and great for Deidre to compete on a national and world stage," said UI diving coach Todd Waikel. "I am very blessed to be able to work with such a talented athlete."
Freeman — a 2011 graduate — will dive alongside former University of Texas standout Maren Taylor. The duo last competed on Aug. 16, diving to a second-place finish at the U.S. diving championships in Knoxville, Tennessee, with a score of 284.40.
Freeman remains active with the UI swimming and diving program — now in her first year as an assistant coach.
"There are so many benefits to having Freeman on our staff," said Waikel. "The best of those is that she has a really good understanding of the sport and because she is still training, she can give insight to other athletes that I might not see or pick up."
In the summer of 2014, Freeman was 1-of-14 women named to the 2014 AT&T Olympic Performance Squad. The group includes divers who most exhibit the skill and determination to become 2016 Olympic Team members.
The Grinnell, Iowa, native has competed in 12 national events and participated at the 2012 US Olympic Trials, diving to a fourth-place finish in the 3-meter synchronized event and 18th in the individual 3-meter event. Freeman was also the United States' synchronized representative at the Canada Cup, where she dove to a fifth-place finish.
"Our goal has always been the Olympics, and I believe without doubt that she can make the Olympic team," said Waikel. "We talk a lot about that goal, but also try to keep everything in perspective and enjoy and learn from each accomplishment and failure as they come."
Freeman and Taylor are set to dive on Oct. 25, in the 3-meter synchronized event at 9 p.m. (CT).
Daily results will be available for download at malaysiaswim.org