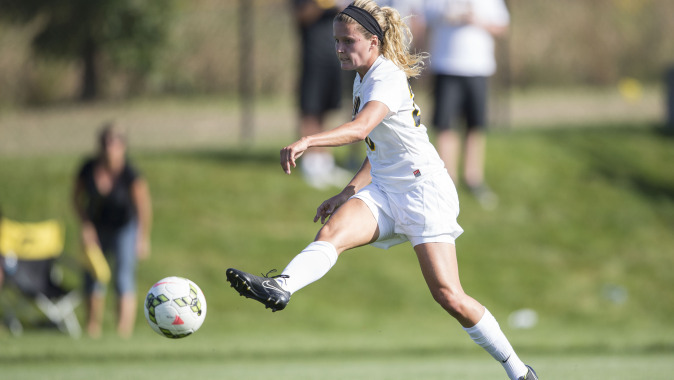 Oct. 21, 2014
IOWA CITY, Iowa — University of Iowa senior Cloe Lacasse earned her second honor in as many days when she was tabbed as the Big Ten Player of the Week by College Sports Madness on Tuesday.
Lacasse was named the Big Ten Offensive Player of the Week by the league office Monday. She earned the distinction after scoring two goals and adding a pair of assists in leading the Hawkeyes to a pair of league victories over Indiana and Purdue.
The Sudbury, Ontario, native assisted on the game-winning goal in Iowa's 1-0 Senior Night victory over Indiana before scoring two goals and tallying an assist — all in the first half — in the Hawkeyes' 3-1 triumph over Purdue. Lacasse is leading the team with nine goals and six assists for 24 points.
Iowa, who sits fifth in the Big Ten standings with 19 points, is 11-4-1 overall and 6-3-1 in conference action. The Hawkeyes return to action Friday, opening a three-game road trip at Ohio State beginning at 6 p.m. (CT).