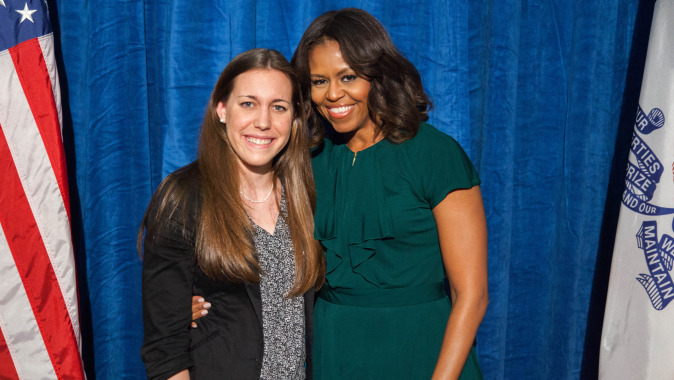 Oct. 22, 2014
By JAMES ALLAN
hawkeyesports.com
IOWA CITY, Iowa — The experience University of Iowa women's swimmer Maddie Bro had Oct. 21 at the Iowa Memorial Union is one she won't soon forget.
Bro, a junior backstroker from Ames, Iowa, had a VIP pass to meet First Lady Michelle Obama during a campaign event for U.S. Senate candidate Bruce Braley in Iowa City.
"I never thought in my wildest dreams I would meet the First Lady in Iowa City," said Bro. "It was fantastic to hear her speak and interact with her because there are so few opportunities to do that with our nation's leaders.
"It was a special opportunity I will remember for the rest of my life."
During the summer of 2014, Bro interned for the Braley campaign at the headquarters in downtown Des Moines. That experience opened this door, which began with an Oct. 17 phone call from her former boss.
"My former boss calls me and asks me, `What would you say if I said I had a VIP pass for you to meet Michelle Obama before she speaks at the Iowa Votes Rally on Tuesday?,'" said Bro. "I said, `Is this real? Are you kidding? I really hope this isn't a prank.'"
Along with a group of 30 VIPs, which included Congressmen, Senators, local politicians, and community leaders, Bro met at the IMU on the morning of Oct. 21.
Before meeting Obama, the group was escorted to the photo room, where each of the individuals was given an index card with their names on it. The cards were then handed to Obama's assistant before meeting the First Lady.
"Once I got up to the front of the line, Michelle's assistant asked if I was a student," said Bro. "I told him I was a swimmer. When it was my turn to get my photo taken, (Obama's assistant) introduced me as a swimmer from the University of Iowa."
Bro's background as a Hawkeye swimming student-athlete led to a humorous exchange.
"(Michelle) said, `Oh you're a swimmer, you must have nice arms,'" said Bro. "`I said, `Well, I am definitely a fan of yours.' She laughed for quite some time after that because there is a running joke that Michelle has nice arms."
After getting their photo taken, Obama and Bro shared in small talk, ranging from swimming to law school. Bro is majoring in journalism and mass communications, and she plans on attending law school after graduation.
Bro's memorable day ended with a farewell she won't soon forget.
"(Michelle) said to keep pushing forward and to take care," said Bro. "Then she gave me a hug. That was a cherry on top."
(Photo courtesy of Michael Brophy and Braley for Iowa)