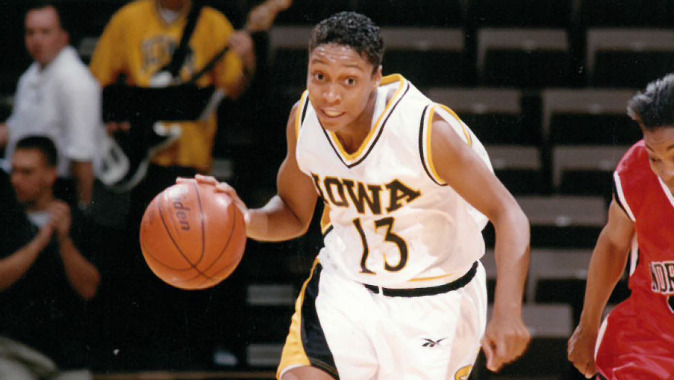 Oct. 22, 2014
STAMFORD, Conn. — Former University of Iowa women's basketball standout Nadine Domond was inducted into the Fairfield County Sports Hall of Fame on Monday evening.
The Hall of Fame, which is overseen by the Fairfield County Sports Commission, Inc., honored the newly elected Hall of Famers with an induction ceremony at the Commission's 10th anniversary Sports Night awards dinner at the Hyatt Regency Greenwich.
The Bridgeport, Connecticut, native was one of the state's greatest girls basketball players, scoring 2,300 points in her four-year career at Central High, which is still sixth best all-time in Connecticut. She was a four-time all-state selection and a Parade All-American, and one of the five players selected for the USA Today All-USA team in 1994. She led Central to a 27-0 undefeated season and a Class LL state title as a senior in 1994.
Domond played for four years at the University of Iowa (1994-98), and as the starting point guard led the Hawkeyes in assists and steals as both a junior and senior (1996-97, 1997-98). She was a Preseason Naismith Player of the Year Honorable Mention nominee (1997) and a 1997 United States William R. Jones Cup Team member. Domond helped lead Iowa to three-straight NCAA Tournaments, including a Sweet 16 appearance in 1996.
Domond was a three-time All-Big Ten selection, garnering second team accolades in 1998, and honorable mention honors in 1996 and 1997. She ranks 10th on Iowa's all-time list in steals (177), and assists (357), and 11th in 3-pointers (118).
Domond was the 19th pick of the 1998 WNBA Draft for the New York Liberty. She was elected to the New England Basketball Hall of Fame in 2003.