Box Score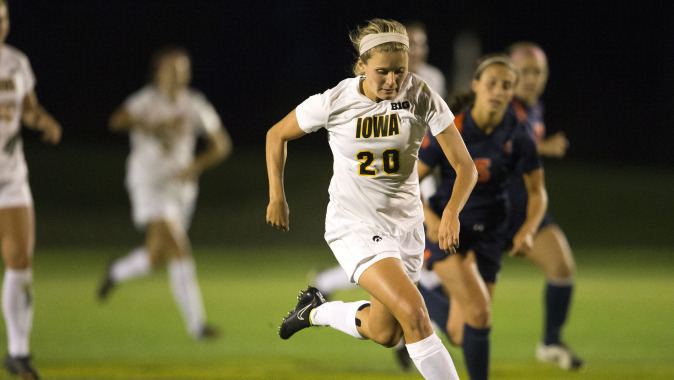 Oct. 24, 2014
COLUMBUS, Ohio — Goals from seniors Cloe Lacasse and Melanie Pickert were enough to give the University of Iowa women's soccer team a 2-1 victory over Ohio State on Friday night at Ohio State's Memorial Stadium. The win marks Iowa's seventh conference win of the season, tying for the most in program history. The Hawkeyes went 7-3-0 en route to a 13-7-0 overall record in 1999.
Things got off to a quick start for the Hawkeyes when sophomore Corey Burns launched a deep ball off a corner kick to Lacasse, who headed it in from six-yards out, giving Iowa the 1-0 advantage less than five minutes into the game. The goal was Lacasse's 10th of the season and third in two games.
"We had a great start to the game tonight, playing on the road and with so much at stake for both teams," said UI head coach Dave DiIanni. "Our first 20 minutes was a reflection of what we've been accustom to seeing lately from our kids. A very focused, hard working group that moved the ball with purpose and displayed quickness off it in support."
The Hawkeyes had several chances to extend their lead before halftime, posting six shots total, but none were able to find the back of the net. The Iowa defense limited Ohio State to just one shot in the first half.
"After we took the lead in the first half, we started playing not to lose instead of playing to win and got caught on our heels too often," said DiIanni. "Our work rate continued to be high through the game for each other, but the quality in possession disappeared."
Iowa went up 2-0 in the 80th-minute when Pickert sent a free kick from 20-yards out past an outstretched Buckeye goalkeeper Megan Geldernick. Pickert's seventh goal of the season looked to have sealed the Hawkeye victory, but Ohio State wouldn't go away.
The Buckeyes got on the board in the 86th-minute when Taylor Schissler found Nichelle Prince, who scored from six-yards out, cutting the deficit to 2-1. Ohio State outshot Iowa, 8-5, in the second half, but couldn't break past the Iowa defense during the final four minutes, giving Iowa the 2-1 victory.
Seven Hawkeyes played all 90 minutes in Friday night's contest, including senior Caitlin Brown who has now logged 4,819 consecutive minutes in 51 games. Junior Hannah Clark improved to 8-3-1 on the year, tallying one save in the victory.
"We are so proud of our kids' effort they gave on the road to get a hard earned three points," said DiIanni.
The Hawkeyes, standing at 12-4-1 overall and 7-3-1 in the Big Ten, are back in action at No. 7 Penn State on Sunday. The matchup is slated for a 10:30 a.m. (CT) starting time.?