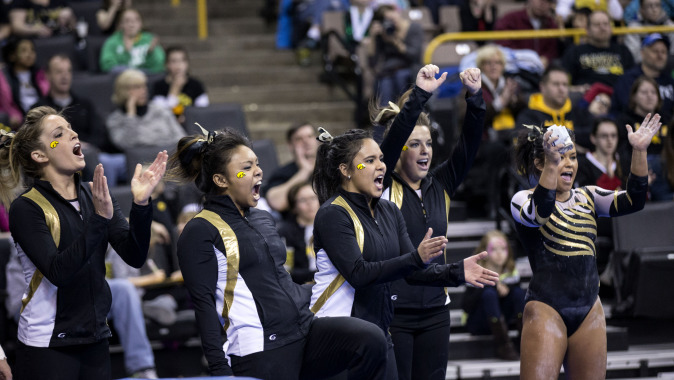 Oct. 27, 2014
IOWA CITY, Iowa — Season tickets for the 2015 University of Iowa women's gymnastics season are available for purchase. The 2015 regular season includes four home competitions at Carver-Hawkeye Arena, including three against league opponents (Michigan State, Maryland, Illinois) and the home finale against in-state rival Iowa State.
Season tickets are currently on sale for $12 for adults; the price will jump to $15 after Iowa's intrasquad on Dec. 6. The season ticket package includes premium seating options and a gift. Fans interested in attending home meets at Carver-Hawkeye Arena should visit hawkeyesports.com or contact the UI Athletics Ticket Office at 1-800 IA-HAWKS.
All youth, 18 and younger, and UI students are admitted free to all home matches.
The Hawkeyes — selected for NCAA Regional competition as a team in six of the last seven seasons — will open their home slate at Carver-Hawkeye Arena on Sunday, Jan. 18, hosting the Spartans at 2 p.m. (CT). Iowa welcomes Big Ten newcomer Maryland to the Hawkeye State on Friday, Jan. 30 (7 p.m.) before hosting Illinois on Saturday, Feb. 14 (3 p.m.).
The Cyclones visit on Friday, March 6 (7 p.m.) in the home finale.
The Hawkeyes — comprised of three seniors, three juniors, six sophomores, and seven freshmen — will kick off the season with the annual Black and Gold Intrasquad on Dec. 6 in the UI Field House at 11 a.m. (CT). Admission is free.